Who Is Real Housewives Of Potomac's Mia Thornton?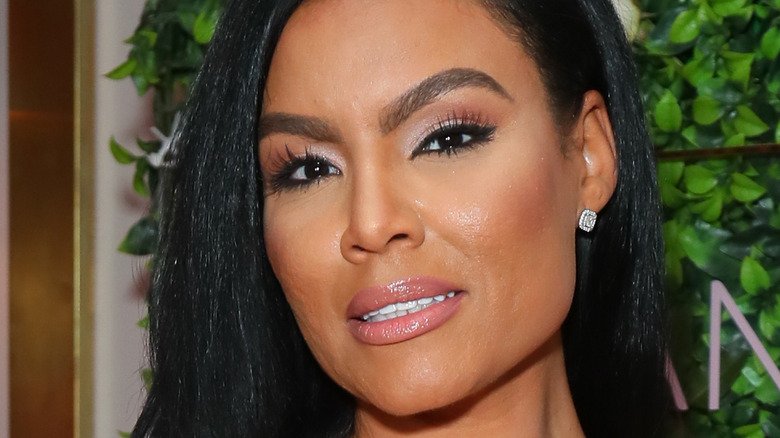 Leon Bennett/Getty Images
Bravo's "The Real Housewives" series are some of the most successful franchises of the network. When "The Real Housewives of Orange County" premiered in 2006 (via IMDb), it was clear that the reality show would be a hit. Over the years, Bravo expanded to create wildly entertaining spinoff series in New Jersey, Beverly Hills, Atlanta, and many more cities across the United States (via Bravo). However, "The Real Housewives of Potomac" is slowly becoming one of the top series in the franchise. Thankfully for "RHOP" fans, the Season 6 premiere is only days away. Ahead of the July 11 premiere, Bravo revealed that it decided to add some new members to the cast.
In late May, People reported that entrepreneur Mia Thornton will make her "Real Housewives" debut this season. Following this announcement, "RHOP" alums shared their excitement about their new co-star on social media. Robyn Dixon wrote in an Instagram caption, "Thank you all so much for watching and supporting us! And please welcome our new Housewife and perfect addition, [Mia]," while Karen Huger wrote on her Instagram, "I am so excited to introduce you all to my friend Mia! She is a. REAL ONE, she's funny, she smart and has a heart of gold," (via Bravo).
Here's what we know about Mia Thornton
According to her Bravo biography, Mia Thornton studied Neuromuscular Massage Therapy at Southeastern Institute and worked as a clinic Director in Charlotte, North Carolina, following her graduation. This position resulted in Thornton partnering with a Fortune 500 company and becoming the owner of Massage Envy Spas. The mogul built on the success of her business by developing Joint Chiropractor Doctor Offices across the country.
Aside from her booming career, Thornton has an enviable personal life. She lives in Maryland with her husband of nine years, Gordon, and their three beautiful children — Joshua, Jeremiah, and Juliana. The reality star's Instagram is filled with photos of her family and captions expressing just how much they mean to her. Thornton is also very involved with various foundations (via Screen Rant). The Thorntons are known for their donations to Autism Speaks, A Child's Place, and a few other charities. It will certainly be exciting to see what Thornton brings to "The Real Housewives of Potomac" this season.