The Truth About Meghan McCain And Joy Behar's Relationship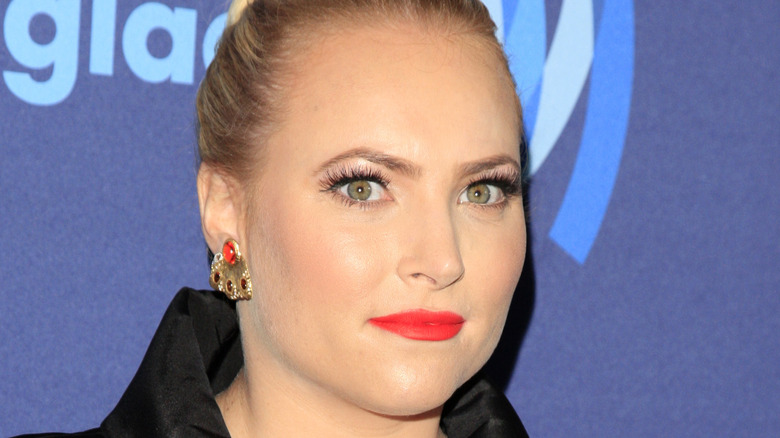 Shutterstock
On the July 1 episode of "The View," Meghan McCain announced she will be leaving the daytime talk time show at the end of the month, to spend more time with her family in Washington D.C. (via Variety). The conservative panelist explained, "This was not an easy decision. It took a lot of thought and counsel and prayer, and talking to my family and my close friends." 
Though McCain's expressed gratitude for the opportunity to be part of the series, her experience on "The View" was littered with many controversial moments and verbal sparring matches with her co-hosts, especially Joy Behar (via Us Weekly).
In a 2020 episode, the pair argued about one of former President Donald Trump's 2020 campaign rallies. After Behar mocked McCain's choice to refer to herself as the "sacrificial Republican" on the episode, McCain quipped, "Don't feel bad for me, b***h. I get paid to do this." Though the co-hosts are often at odds on air, their relationship behind the scenes is a bit more complex (via Entertainment Tonight).
Meghan and Joy may be more similar than they seem
In a 2019 interview with Entertainment Tonight, Meghan McCain and Joy Behar opened up about the rumors that they don't get along. 
McCain explained, "Of all the people backstage, we actually get along the best because we always want to watch news after and still talk about it." McCain also added that it upsets her to hear about reports that she is in the midst of a feud with Behar. She told her liberal co-host, "It genuinely hurts my feelings because our dressing rooms are next door to each other and you and I have the same emotional reaction to things – sometimes in different ways – but we're both upset equally, the equal amount of the same things," (via ET).
Not only do the pair get along well on the set of "The View" but they appear to have forged a real-life friendship. In October 2019, the duo dressed as the scary twins from "The Shinning" together. The following year, McCain posted a tribute to Behar on Instagram for her birthday. McCain wrote, "My favorite liberal sparring partner. You are a true power house and ultimate original! Grateful to call you a friend."