President Biden Thanks Americans For Making 'This Fourth Of July' Possible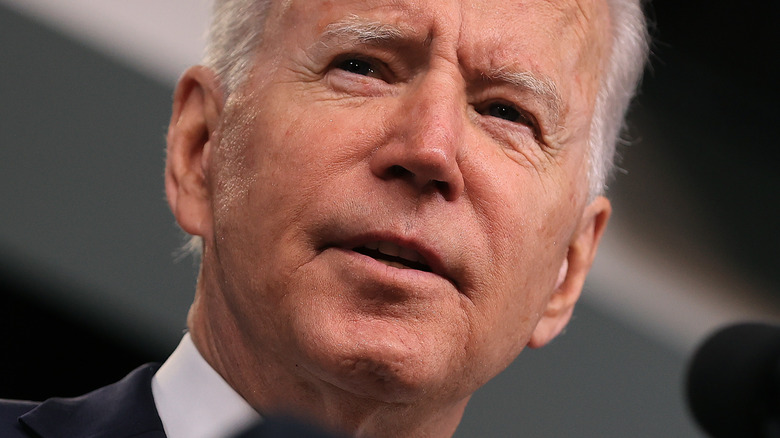 Chip Somodevilla/Getty Images
Independence Day 2021 is looking as bright as the fireworks that will soar in the night sky. Just 12 months ago, America was still in the midst of the COVID-19 pandemic, with many businesses shuttered, indoor dining banned or restricted, and schools going remote or hybrid. July 4 parades, concerts, and barbecues nationwide were either canceled or severely restricted; the annual Macy's fireworks display was replaced by smaller pyrotechnics across the five boroughs (via NBC New York). Now, Americans are back to traveling, partying, and watching the bombs bursting in air — and President Biden took to Twitter to thank the people who made this possible.
On his official presidential account, Biden first posted a "Happy Fourth of July" GIF with the White House symbol at the bottom. He wrote, "Happy Fourth of July, folks. America has a lot to celebrate today." The president followed up an hour later with a video showing a diverse representation of Americans going back to in-person life: reopening businesses, going to the movies, getting married, hugging loved ones. His caption: "This Fourth of July, America is back. We're headed into a summer of joy — of freedom — thanks to the millions of Americans who stepped up to get vaccinated. To the frontline and essential workers who have made this day possible: thank you."
While not everyone appreciated the greeting — responses called the president out on student loan forgiveness, federal voting rights, and the 16-cent savings on July 4 BBQ food — others cheered his message. One fan tweeted: "Yes, thank you to all who worked hard to make this possible, including you, @POTUS."
Barack Obama had a special July 4 message, too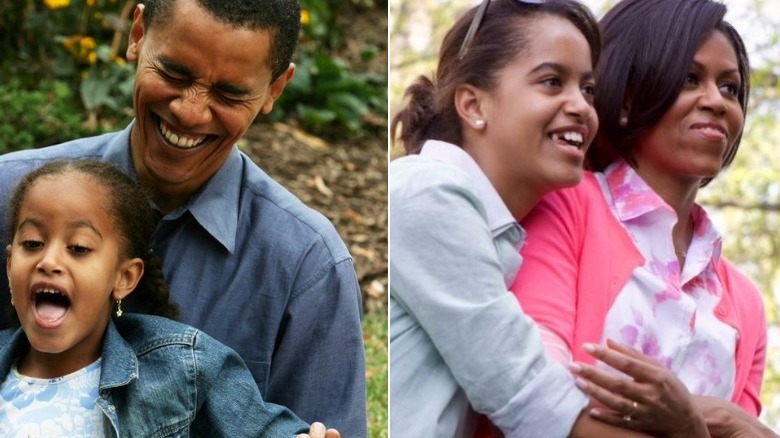 Barack Obama/Twitter; Michelle Obama/Instagram
The nation's birthday was also honored by many other major names in the political world, including Vice President Kamala Harris. But one former commander in chief had double the reason to celebrate the holiday: Barack Obama's older daughter, Malia, turned 23 on July 4. 
Obama posted an adorable picture of a sweet father-daughter moment from some years back; the proud dad is in the midst of a laugh as Malia reacts to something in front of her. "Happy Fourth of July, and Happy Birthday, Malia!" he wrote. "It's been such a joy to watch you begin to make your own way in the world with poise, grace, and humor. I miss the days when you thought the fireworks were for you."
Mom Michelle Obama added a tweet of her own with a photo of herself and the birthday girl. "Happy Fourth of July, everybody—and also, happy 23rd birthday to our dear Malia!" she wrote. "It's been a few years since we took this photo, but I know that she'll always be my sweet little girl. Malia, we love you, and are so excited to see what this year will bring for you!"
A first son had a much different July 4 greeting
Another former president, Donald Trump, hasn't yet sent a holiday message through his personal website, and his Twitter account is still blocked. His oldest son, on the other hand, is still on social media and has plenty to say. Donald Trump Jr. often tweets his criticism of the current administration and other hot-button issues. 
For the Fourth of July, Don Jr. offered a traditional tweeted greeting: "HAPPY BIRTHDAY AMERICA." Then he followed up with a much different post: a Photoshopped image of his father riding on a bald eagle over Mt. Rushmore. Trump is armed with a rifle, and all the presidents in the statue are wearing MAGA caps. "Rolling into July 4 BBQ like a boss. #4thofJuly #FourthofJuly," went the caption.
Though the unusual Independence Day post got more than 18,000 likes (as of this writing), the comments were anything but complimentary. One respondent wrote, "What are you? Five years old? This is such a childish picture." Another remarked on the right's hypocrisy: "The same people who are offended by black people kneeling for the National Anthem, also seem to think this image of a person desecrating our sacred national symbols is just fine. WTF." A particularly barbed response included a video of the January 6 insurrection at the Capitol: "Trump supporters are the worse 'Patriots,' " it said. "When you say you respect the police, you really don't. When you say you respect the flag, you really don't. When you say you respect democracy, you really don't."