The Drugstore Eyeshadow That Nina Dobrev Swears By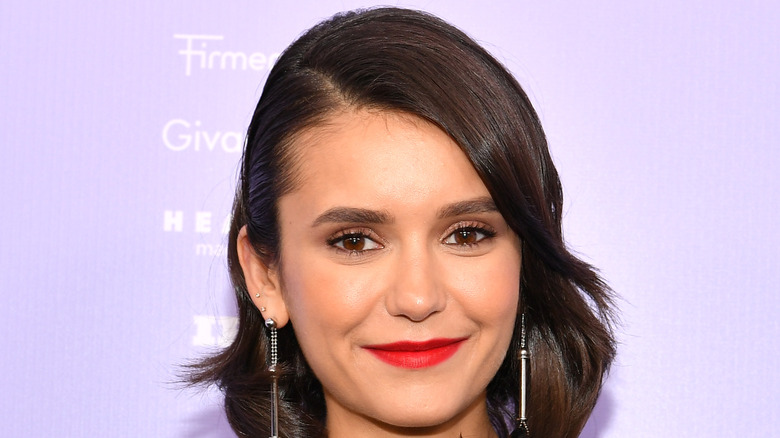 Dia Dipasupil/Getty Images
We may receive a commission on purchases made from links.
Nina Dobrev shot to fame as a cast member on the hit fantasy drama "The Vampire Diaries," on which she appeared from 2009 to 2017, as per IMDb. The uniquely beautiful actress, who was born in Bulgaria, has been fielding questions about her beauty routine ever since. And, thankfully, for us mere mortals, Dobrev is only too happy to divulge her biggest secrets. 
For instance, the stunning star, who was named a Dior Beauty brand partner in 2019, shared a killer concealer tip with Women's Health. As Dobrev explained, "I always mix a little bit of my concealer and my foundation together to put under my eyes, not just the concealer straight to the eye, because then it looks either too light, or because I travel a lot sometimes I'm in the sun, sometimes I'm not, so my skin color changes, so I mix them together for a more natural finish." 
When it comes to makeup in general, and despite her Dior connection, the "Vampire Diaries" star is a proud drugstore beauty user, including this lovely eyeshadow. Keep reading for her secret.
This wonderfully shimmery product is very reasonably priced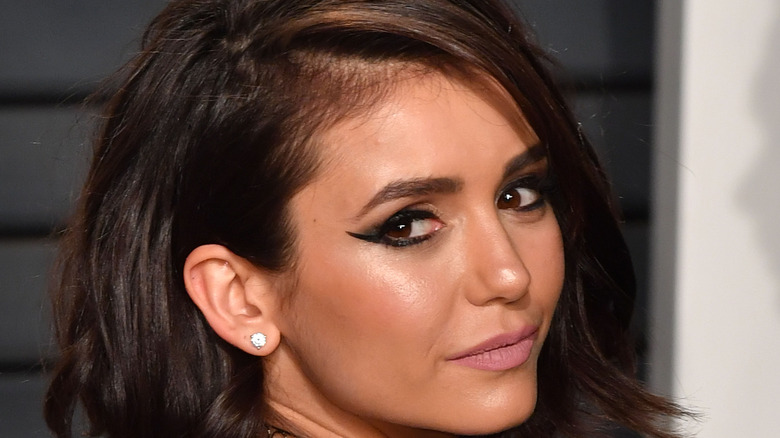 C Flanigan/Getty Images
While attending the 2017 Vanity Fair Oscars party, Nina Dobrev opted for a chic cat-eye with shimmery lids. As PopSugar notes, makeup artist Spencer Barnes teamed up with e.l.f Cosmetics to create the look, utilizing products ranging from just $3 to $12. Spencer advised, "I kept Nina's skin fresh, flawless, and soft, and honed in on dramatic brows and lashes." The e.l.f. Beautifully Bare Smooth Matte Eyeshadow is currently sold out online, but Stylecaster confirms it typically retails for $4. 
The "Degrassi" breakout star is a proud drugstore shopper, through and through. In an interview with Harpers Bazaar, Dobrev shared her nighttime skincare routine and shouted out two incredibly affordable products. First, the actress uses Simple Micellar Make-Up Remover Wipes ($6.99 from Amazon) to remove all of her makeup from the day. "I'm told you're supposed to be really light on your skin, especially around the undereye area, but I don't always practice what I preach," she quipped, while scrubbing away.
Likewise, Dobrev also uses Simple Dual Effect Eye Make-Up Remover ($9.10 from Amazon) to make sure all dirt and makeup is completely gone, noting, "In order to remove the makeup around the eyes, sometimes I like to use a Q-tip to really get in there." There you have it: Stars — they're just like us.