Tyler Perry's Former Atlanta Mansion Is The Most Expensive House In Georgia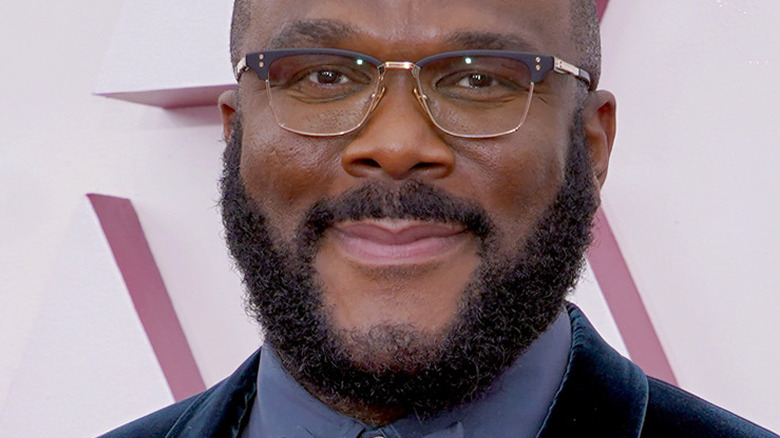 Pool/Getty Images
Tyler Perry is one of Hollywood's mainstay creators, and his home certainly reflects that. He's friends with Prince Harry and Meghan Markle, not to mention Oprah Winfrey, and his net worth shows just how much influence he's had in the entertainment industry over the last few decades. He's perhaps most known for his role as the hilarious Madea in many self-titled movies, such as "Madea's Witness Protection Program" and "Madea Goes to Jail," but he's also appeared in such hit films as "Gone Girl" and "The Single Moms Club" (via IMDb). 
The comedy mogul lives and operates out of Atlanta, Georgia, where his TV and film studios, Tyler Perry Studios, has also been located since its founding in 2015. As a result of his massive success, Perry  has owned the most expensive home in the state of Georgia for several years. Built by Perry in 2007, the property was later sold to televangelist David Turner for $17.5 million in 2016 before being sold again for $16 million in 2021 (via Homes & Gardens).
This mansion has over 10 bathrooms and its own spa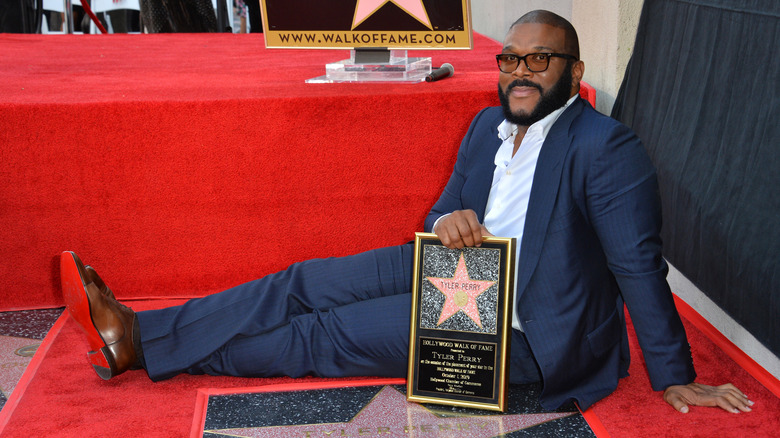 Shutterstock
Tyler Perry's former Georgia home reportedly cost him around $40 million to build when he purchased the property in 2007 (via Mansion Global). The mansion sits on 17 acres of land and hit the market in 2018 for $25 million before ultimately being sold in 2021 for $16 million. The home is massive in size and features endless accommodations both inside the mansion's main building and outside.
According to Homes & Gardens, Perry's former home sports a ballroom, a private helipad so the filmmaker could zip wherever he needed to go, a spa, a theater, an indoor pool in addition to a 70,000 gallon infinity pool, a full gym, a housekeeper's suite, and flood-lit tennis courts. It also boasts seven bedrooms and nine full bathrooms along with five half bathrooms (via Mansion Global). The property faces the Chattahoochee River, and the mansion itself is 34,688 square feet in size. Mansion Global even remarks that the home is Versailles-like. 
"It's [also] one of the largest single-family residences in the city, and it has the most exclusive amenity package of any estate in Atlanta. The neighborhood, Paces, is one of the exclusive and has the most expensive ZIP Code in the city," said real estate agent Chase Mizell, per Mansion Global. It's unclear who the property's new owner is, but it's clear that Tyler Perry wanted a home that resembled that of royalty.