Meet Anna Faris' Fiance, Michael Barrett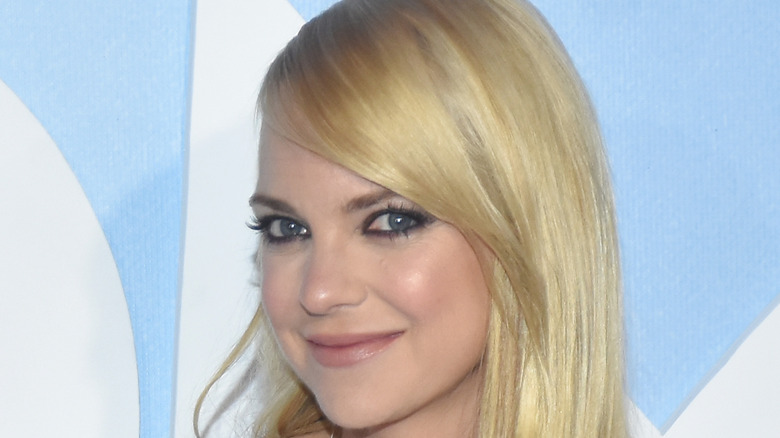 Carlos Tischler/Getty Images
Once upon a time, the crowns for king and queen of comedy graced the heads of none other than Anna Faris and Chris Pratt. According to Insider, the hilarious pair first met in Los Angeles on the set "Take Me Home Tonight," but they soon found out they'd grown up mere minutes from each other in Washington. By the time the movie ended filming, the two were madly in love, and they got hitched a year later.
For years afterward, fans were granted seemingly endless glimpses into the happy couple's love life. In 2012, they welcomed their son, Jack, into the world. Then, five years later, they shocked us all by announcing their separation. Soon after, Pratt began a whirlwind romance with Katherine Schwarzenegger, whom he married in 2019. They now share a daughter named Lydia.
On numerous occasions, Faris has vocalized her well wishes for her ex-husband on his burgeoning family. But scores of fans have wondered when her happily ever after would come. As it turns out, Faris has been in love all along, and she's about to make it permanent. Although their relationship was less publicized than Pratt and Schwarzenegger's, Faris and her now-fiancé Michael Barrett have quietly been dating for several years, and they're about to take their relationship to the next level (via Hollywood Life). Here's what we know. 
Anna Faris met her fiancé before she was legally divorced
According to Hollywood Life, Anna Faris met Michael Barrett before she and Chris Pratt had legally split. At the time, they were both working on the rom-com "Overboard" — Barrett as the cinematographer and Faris as the leading lady. Previously, Barrett served as the director of photography on feature films like "Zookeeper," "Ted," and "Kiss Kiss Bang Bang," but his big break came with the show "CSI: Crime Scene Investigation" (via IMDb). 
In September 2017, Faris and Barrett were spotted on a date at the Malibu Chili Cookoff, and they've been together ever since. Although he popped the question in November 2019, they didn't go public with the news until much later. As soon as the paparazzi snapped shots of her stunning yellow diamond ring, rumors of an engagement swirled (via Hollywood Life). Her "Mom" costar, Allison Janney, broke the news to Us Weekly in 2020. "I know she's been engaged for a long time," she said. "I kept it very quiet, I'll have you know! So, I celebrated with them a long time ago." 
A source close to Faris previously told the outlet that her pal couldn't have found a better match. "All of her friends love him. He's so down-to-earth, stable and obsessed with Anna," the source said. "Michael is great with [her son, Jack], and that's all Anna cares about. They are doing so well." As long as Faris and Chris Pratt are happy, we're happy.