How To Pick The Best Nail Polish Color For Each Nail Shape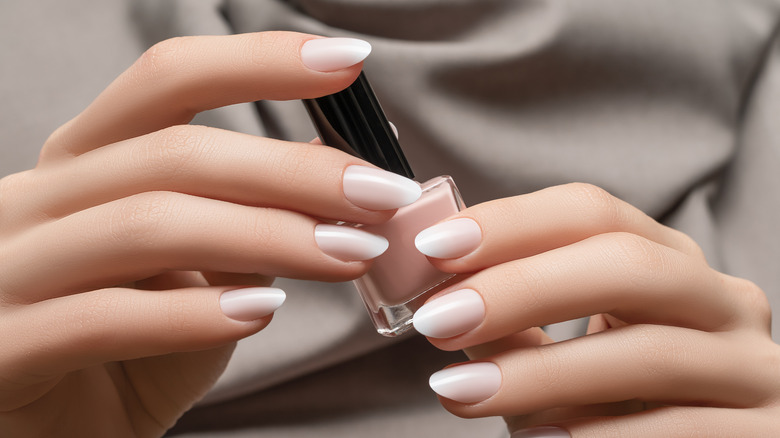 Shutterstock
When you head to the nail salon and face the seemingly endless wall of nail polish colors, you're probably basing your choice off of a few factors: the season, your OOTD, or your mood, to name a few. For example, a burnt amber or dark purple hue would effortlessly match the autumn aesthetic, while a nude tone or shimmery light pink would make the perfect addition to a bridesmaid dress. On a day in which you woke up on the wrong side of the bed, you might opt for a foreboding matte black. But have you ever based your nail polish color on the shape of your nails themselves? 
It might seem strange, but certain colors can actually enhance your natural nail shape – and since there's only so much you can do to change the way your nails look, you may as well work with what you got (especially if you're acrylic-averse!). So without further ado, here are some of the best colors for each nail type, from short and round to long and narrow.
There's a flattering shade for every shape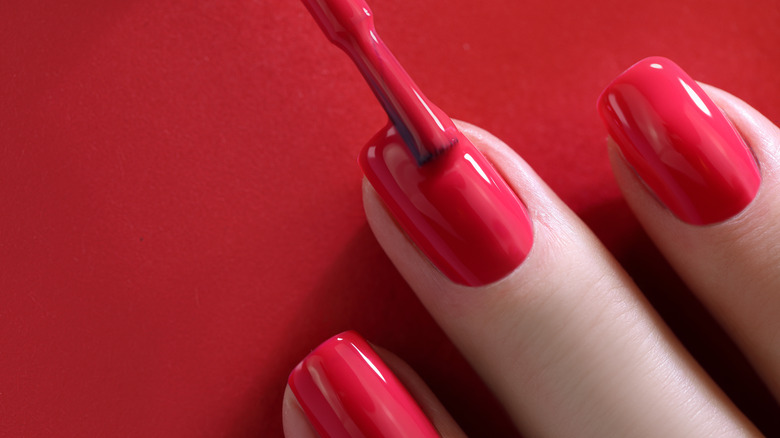 Shutterstock
According to Pure Wow, the most flattering colors on short and square nails tend to be sheer nudes and shimmery metallics, such as rose gold. These types of shades not only bring balance to sharp edges but can also elongate your nails' appearance. In contrast, inky black and blue hues tend to make short nails look even shorter and they also give off a harsh look — so if you have this shape, it's best not to hop aboard the hot goth trend.
But if your nails are in the short and round category, that advice doesn't apply, as even the darkest of colors look crisp and even on curved tips. Bold reds and creamy pastels also flatter this shape. But for those who want to give off the appearance of slimmer nails, Better Homes & Gardens suggests either opting for a light opaque shade or leaving a bit of room on either side to make a slimmer block of a darker color.
If you're lucky enough to sport long and narrow nails, sultry reds and burgundies really up the glamour factor. Light pinks or nudes that are a shade or two lighter than your skin tone also flatter this desirable nail shape. Long and wide nails, on the other hand, look great with any trendy nail polish color (via Pure Wow). Whether it's a marigold yellow, minty green, or muted mauve, the world is your oyster!