Where To Buy The Exact Clothes Jane Fonda Wears On Grace And Frankie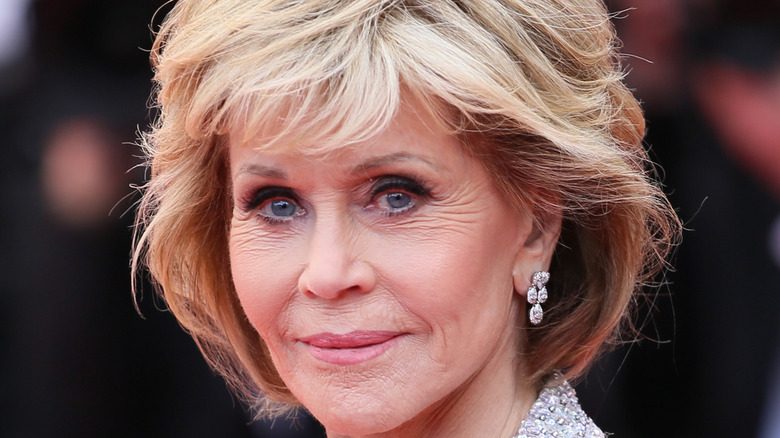 Shutterstock
If you haven't yet binged all of "Grace and Frankie" ahead of its final season, you're doing yourself a real disservice. In a word, the Emmy-nominated Netflix series is nothing short of delightful. It belongs to the category of comedies that require a tissue box at the ready — to soak up tears of commiseration just as often as those produced by knee-slapping laughter. But the show wouldn't be the triumph that it is without its two eponymous characters and the women who play them. 
Even the sourest of reviews can't deny the chemistry and time-honored talent of the show's leading ladies, Jane Fonda and Lily Tomlin. On Rotten Tomatoes, for example, the "critics consensus" reads, "'Grace and Frankie's' stellar cast adds an undeniable appeal, although its sloppy dialogue and clichéd sitcom setup will still leave most viewers wanting." Although we see eye to eye on that first sentiment, we'll have to agree to disagree with the second. However, we can't give all the props to the actresses, as Grace and Frankie's respective outfits serve as the icing on the cake to their characters. Freewheeling flower-child Frankie rocks flowy and bohemian frocks and clogs, while uptight entrepreneur Grace consistently dons freshly ironed country club garb. If you want to emulate the latter, here's where to shop.
Copying Grace's style will set you back a pretty penny
In order to nail down Grace's character on "Grace and Frankie," the costume designer couldn't dress Jane Fonda in any old thing. Rather, they had to pick pieces that perfectly aligned with the character's dogmatic personality and expensive lifestyle.
No matter what Grace is doing, she's doing it in style. Even when she hilariously finds herself unable to get up from the toilet in Season 6 Episode 2, she's wearing a $456 pajama set by the brand Hanro (via Worn on TV). In that same episode, Grace wears another fancy set of pajamas, this time the Parrots Long Pajama Set by Desmond & Dempsey (which will set you back a cool $180, via Worn on TV). 
In Season 5 Episode 12 — which depicts Bud's wedding — Grace dresses to the nines in a stunning cream ensemble (via Worn on TV). The wide bow embellished leather waist belt by Alexander McQueen that seals the deal can be found at Modesens, but it's close to $900, so maybe it's best not to click "add to cart" anyway. The interesting Helmut Lang color-block turtleneck she wears in Season 6 Episode 5 (via Worn on TV) is also currently sold out, but you can head to Nordstrom if you want to anxiously await its restock. For other outfits worn by the esteemed fictional Hanson family (like Brianna's jaw-dropping cape dress!), check out Worn on TV's archives.