How To Replicate Jessica Alba's Nighttime Skincare Routine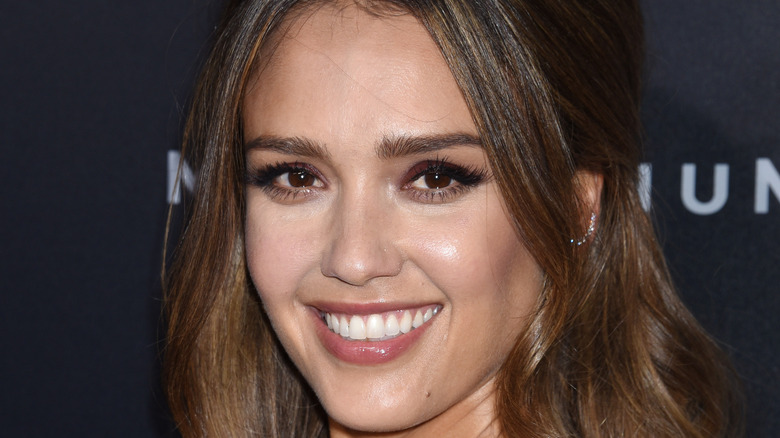 Shutterstock
Jessica Alba first rose to fame through her acting chops, but now the "Fantastic Four" star is trading in her Teen Choice awards for a spot on Forbes Hot 100. Alba co-founded The Honest Company startup in 2011, following the birth of her daughter Honor (via Forbes). The Honest Company's mission is to design sustainable, non-toxic, affordable products that work. "Health and wellness are a universal foundation for a life well-lived," Alba stated (via The Honest Company), "and I believe it's our responsibility to leave the world better than when we found it." In June 2015, Alba reached the height of her company's success, appearing on Forbes' America's Richest Self-Made Women list.
Alba kept up with consumer demands by expanding The Honest Company's merchandise from diapers and cleaning products to makeup, clothes, and skincare. The Honest Company website even includes links to buy Alba's skincare favorites, down to the exact serums. So, what does the "Honey" actress' nighttime routine look like? 
Jessica Alba double cleanses her face to ensure a clean slate
Clearly, Jessica Alba believes in her company, because nearly every product in her nighttime routine is from The Honest Company's skincare line, Honest Beauty (via YouTube). In a video with Harper's Bazaar, Alba shares her nightly ritual, and begins by wiping down her face with two Amazon sponges. "It's sort of like wiping away the day," Alba explains. Next, Alba uses Honest's Gel-to-Milk Cleanser as her face wash. "I do like to double cleanse when I'm wearing more of a glam face," Alba states, selecting the Honest Calm On Foaming Cream Cleanser for her second wash to ensure all trace of make-up has left her caramel skin.
No nighttime routine is complete without a luxurious face mask. Alba teaches viewers about the concept of double-masking which she states can help pores look "more refined, tighter." To battle mask-ne, Alba opts for Honest's Prime + Perfect Mask and 3-in-1 Detox Mud Mask. "It kinda tightens up when it dries on your face and it's packed with antioxidants!" she said. She applies both masks to more acne-prone areas like her chin and the sides of her nose.
While she waits for the mask to dry, Alba applies Comfort Zone's Sublime Skin Eye Patches and Honest's Gloss-C Lip Gloss. Alba marinates in her masks for anywhere from "5, 10, 15, 20 minutes" and then rinses down, scrubbing off any remaining product with her sponges.
Jessica Alba's nighttime skincare routine focuses on hydration and facial massages
Once Jessica Alba finishes the cleansing portion of her nighttime skincare routine, she applies Honest's Honestly Bright Eyes Tinted Eye Cream, said to battle under eye circles with a water-based formula (via YouTube). Next, Alba uses one full dropper of Honest's Organic Beauty Facial Oil and massages both products in with the vibrating Nurse Jamie Eyeonix Eye Massaging Beauty Tool. Alba warns not to use this massager on a dry face, as it could pull on sensitive under eye skin.
Alba sticks with her "double-up" philosophy by implementing a second face massage step in her routine, this time with the manual ReFa 4 Carat Ray Face & Body Roller. "My girlfriend Monica Blender, who's a makeup artist, got this for me as a gift and it just feels fancy," Alba jokes. Finally, Alba applies Honest's Beauty Sleep Resurfacing Serum, said to battle blackheads and congestion, followed by Honest's Hydrogel Cream, which she calls her "desert island" product pick.
Alba credits her skincare knowledge to her mom as well as The Honest Company's chemists. "There's a lot of greenwashing out there," Alba warns. Last words of advice for achieving a perfect complexion? Alba suggests taking omega and hyaluronic acid supplements and drinking a LOT of water. Now, get glowing!