The Makeup And Hair Products Heather Morris Used As Brittany On Glee
Heather Morris deserves way more credit for her role on "Glee." The professional dancer turned actress frequently delivered some of the show's most laugh-out-loud funny lines while playing the lovably ditzy Brittany S. Pierce. Even Jane Lynch agreed (via YouTube). Although she was originally brought on as a bit character, Morris' delivery of her wacky one-liners earned her a bigger part in the mega-popular show (via Vulture).
Years after "Glee" went off-air, fans still delight in some of her most memorable lines (via YouTube). Of course, it never hurt that Morris can dance with the best of them. Seriously. She danced with Beyonce before turning to acting (via Showbiz Cheat Sheet). The "My Cup" chanteuse showcased those skills every time she took center stage during a performance (via YouTube). 
Her character was also something of a style icon. Like her fellow Cheerios on the New Directions, Brittany rocked a fresh face of makeup and a signature high ponytail with her cheerleading uniform for most of the first few seasons. Her style evolved over time, but her initial appearance is unforgettable. If you've ever wanted to recreate Brittany's classic look, you're in luck. Teen Vogue spoke to the "Glee" team's hair and makeup experts to get all the details and tips on a couple must-have products. 
What products did Heather Morris use while playing Brittany?
"Glee" makeup artist Kelley Mitchell summed up Brittany's makeup aesthetic as "peaches and cream." What does that mean exactly? Like her best friend, fellow Cheerio, and eventual wife Santana Lopez (played by Naya Rivera), Brittany generally kept her makeup routine sweet and flirty.
"Makeup artist Ayat Malek Kiankhooy does a neutral eye with a glamorous liner, then punches up the cheeks with some really pretty blush," Mitchell explained. She recommended using Stila's cream blush in the shade Gerbera and setting the cream product with a powder blush from MAC. Years later, and it is worth noting that cream blushes are still trending (via Elle). Talk about Brittany's enduring impact. 
Meanwhile, hairstylist Tenita Parker Baker opened up about the challenges of keeping Brittany's hair back in that always-flawless ponytail. "The single ponytail is actually more effort to maintain than one would think," Baker admitted. She revealed that Morris pulled off the timeless look by using two hair ties from the Smoothies brand. Stylists tamed flyaways using products from TIGI's Bed Head line. Those same products probably also came in handy when Heather Morris competed on Season 24 of "Dancing With the Stars."
Heather Morris inspired some of Brittany's beauty routine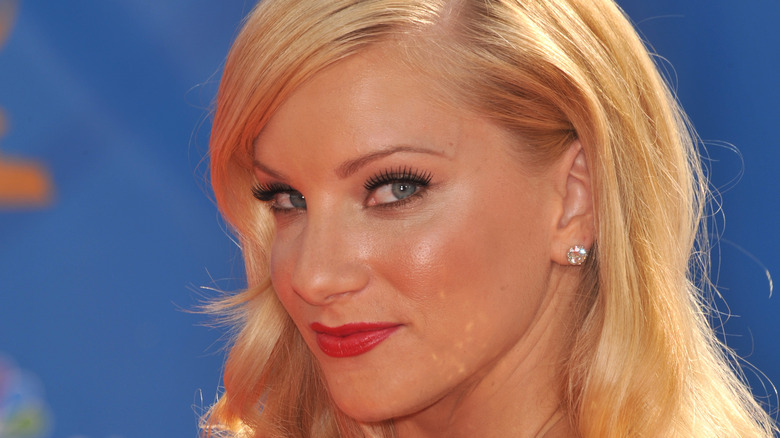 Shutterstock
Kelley Mitchell made sure to emphasize that Heather Morris inspired some of the products that were used to pull off Brittany's look on set. "Heather is a really big fan of natural skin care," she explained. As such, Dr. Hauschka's Rose Day Cream was a must-have product to lay the groundwork for a face of makeup. 
Morris shared some of her own beauty favs in an interview with Teen Vogue. She shouted out a mascara from Kohl's Flirt! brand, which she repped at the time (via PopSugar). The brand appears to be defunct since 2015 (via Bustle); however, a couple coats of a high-quality mascara is the perfect way to finish off a look inspired by any of the characters on "Glee." 
What else was Morris using at the time? She had some tips for lips. "Like most dancers, I love lip stains! We hate gloss because hair gets stuck in it," she explained. Her makeup artist Quinn Murphy revealed that she rocked a colorful tangerine stain on her lips at an event in 2010 (via Glamour). The actress pulled off several other trends that are still with the times, including graphic eyeliner. 
Morris' last product recommendations included a makeup remover perfect for taking off any look. "And I like Proactiv as well as Olay wipes, which I use to get off all my makeup."