A Recent Selfie Has Fans Wondering If Britney Spears Had Her Tattoos Removed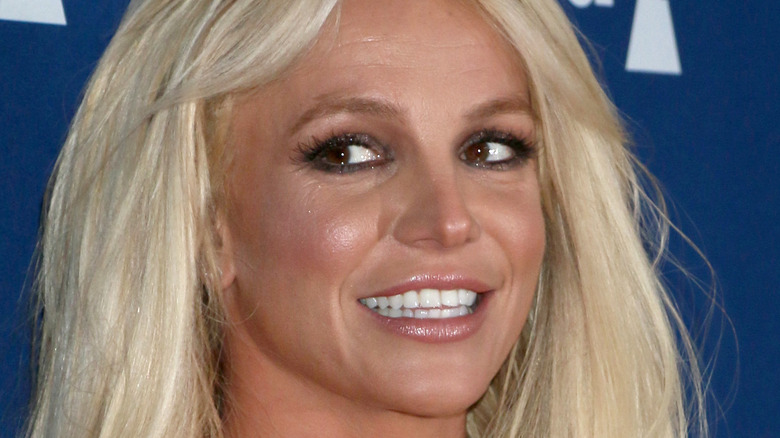 Shutterstock
Britney Spears has been putting it all out there — literally, and figuratively. As fans know, the singer shared new details about her conservatorship in an address to the judge recently. The fallout has been swift, with several members of the pop star's team stepping away from the case. Notably, her longtime lawyer just quit, as did the financial arm of the arrangement, Bessemer Trust. Meanwhile, Spears' manager also resigned.
On a lighter note, the star posted a naked selfie to her Instagram this week (via Page Six). Although the image did not include a caption, actress Selma Blair seemed to get the message, commenting, "Britney's back! That's the best. Xox." 
In addition to the poetic justice served by the bathroom pic, fans couldn't help but notice Spears seemed to be missing something other than her clothes. The pop star usually sports nine tattoos on her body, ranging in location from the back of her neck, to her foot. But where were the two tats on the top and bottom of her spine — the small fairy on her lower back and the Kabbalah symbol on her neck (via Heavy)?
Fans have a lot of questions about Britney Spears' nude selfie
As Heavy reports, the lack of ink on Spears' back in her new Instagram selfie had some fans questioning whether this was truly her. "We know this isn't you," one fan said. "Idk, some thing [sic] is off about this," another follower commented.
"Where are the tattoos?" a fan questioned. "How can this be her when both of her tattoos are missing...." echoed another follower. This sentiment was repeated in dozens of comments, with someone else demanding, "WHERE ARE HER TATTOOS THOUGH?!?!"
One fan speculated Spears may have had her tattoos removed, a la Pete Davidson, who recently announced he plans to get all of his ink taken off by the time he turns 30 (via CNN).
Of course, another prevalent sentiment among Spears' followers was similar to this one: "Queen you are soon getting BACK your freedom. Stay strong. We're by your side!!!"