The Bold Confession Tiffany Haddish Made To Nicolas Cage
Amy Sussman/kca2021/Getty Images
Tiffany Haddish is always finding new ways to make audiences laugh — and this time, she managed it through being surprisingly honest. The "Girls Trip" actress has made a name for herself by being undeniably hilarious, even making history in 2017 by becoming the first Black female comedian to host "Saturday Night Live" (via ABC News). In addition to being a standup comedy queen, she has also made appearances in a variety of funny movies including "Night School," "Bad Trip," and "Like a Boss" (via IMDb).
Most recently, Haddish will be seen starring alongside Nicolas Cage in their new film, "The Unbearable Weight of Massive Talent." The film offers a meta, introspective look into Cage playing a fictional version of himself in which he is recruited by a CIA operative — played by Haddish — and is forced to face his own most iconic big screen characters (via MovieWeb). Sounds a little bizarre, right? Well, it's not as bizarre as Haddish's recent confession to the "National Treasure" superstar himself.
Tiffany Haddish had a climactic experience while watching a Nicolas Cage film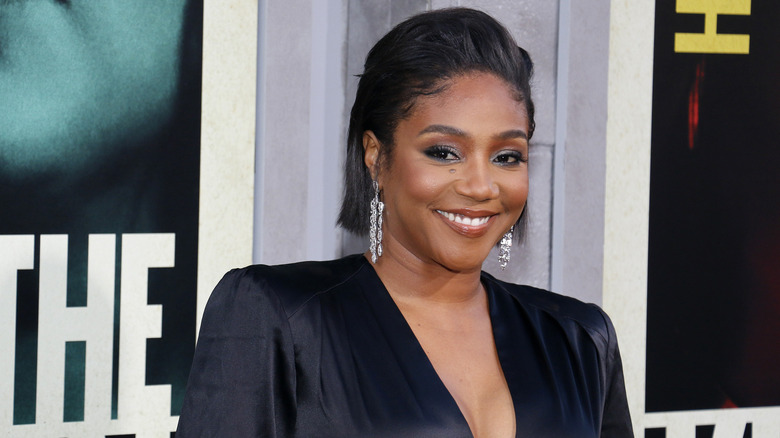 Shutterstock
Tiffany Haddish recently told NPR that she was super intimidated by Nicolas Cage when she first met him on the set of their new film, and she told the actor this right to his face. But this wasn't the confession that has left fans shocked. Understandably, she debated telling him.
"'Should I tell Nicolas Cage this?'" she wondered, per New York Post. "'This is inappropriate. I don't want him to hit me with a sexual-harassment [claim], but I gotta tell him.'" Once she did decide to come clean, what she said next has us all blushing.
"I was at the movie theater seeing 'Face/Off,'" she told NPR. "I was about 17 years old, on a date with this guy. And nobody else was in the theater, really," she recalled. "It was just us in the back of the theater. We started making out and stuff. And then it was my first time being fiddled with." She continues the story, saying that it was at this time that she experienced her very first "momentous moment" looking into the eyes of none other than Nicolas Cage, onscreen. "And that was my first big O," she confesses.
Nicolas Cage couldn't help but laugh in response to the steamy confession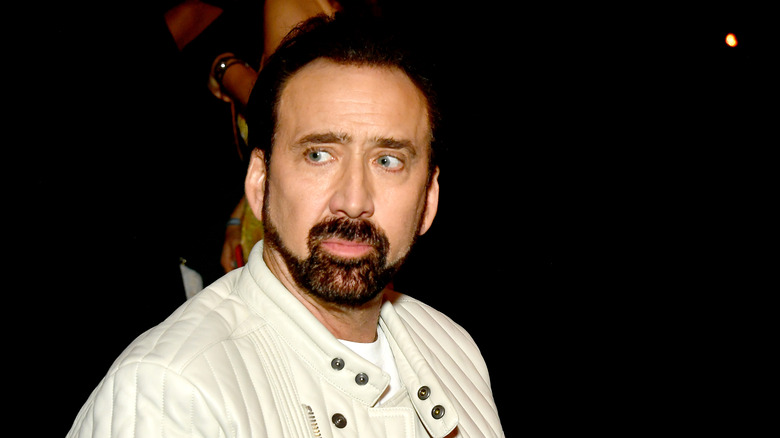 Amy Sussman/Getty Images
So did Tiffany Haddish tell Nicolas Cage this climactic story? Yes — yes, she did. She explained that she simply had to get this tale off her chest and tell Cage. And as for his response? "He laughed super hard," she told NPR, adding that Cage had his own story to share in response. "He goes, 'You know, my first wife saw me in a movie, and she said she was going to marry me, and we ended up getting married,'" Haddish said, even trying her hand at an impression of him while at it (which wasn't bad, by the way).
But while Cage might have had the power to bring Haddish to climax while on the big screen — in person was a very different story. "I said, yeah, well, I didn't say that I was going to marry you, nor let you put your fingers anywhere on me, OK?" she joked.
Now that takes some confidence that we could all use. Keep on making us laugh, Tiffany.