Kaley Cuoco Shares A Surprising Secret About Filming The Flight Attendant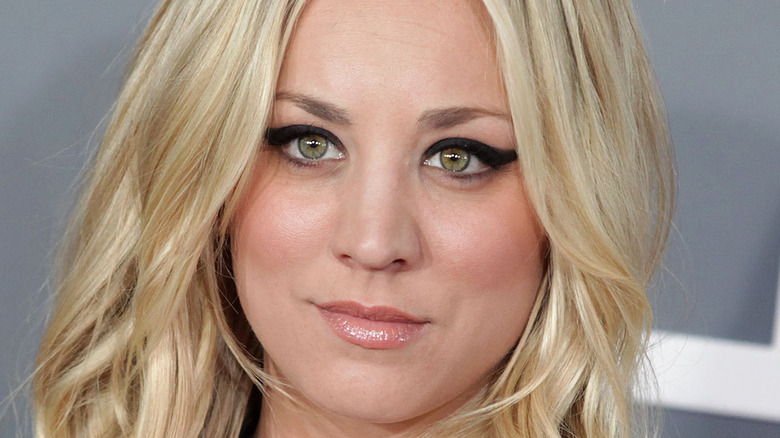 Shutterstock
After becoming a household name for portraying Penny Hofstadter on "The Big Bang Theory," Kaley Cuoco – who's worth more than you think — found herself the subject of further critical acclaim through her latest project, HBO Max series "The Flight Attendant." In the show, Cuoco stars as Cassandra Bowden, a flight attendant whose life is turned upside down after she wakes up next to a dead man with no memory of what happened, per Entertainment Weekly. After the first season of the show proved to be a major hit with fans and critics alike, HBO Max decided to renew the show for a second season, though that season's release date is unknown, according to Digital Spy.
Though Cuoco enjoyed her time on "The Big Bang Theory," she worried that people might not think of her as a multifaceted actress after appearing on the show. Thankfully, her acting chops on "The Flight Attendant" have only gained her more fans. "Even though 'Big Bang' was such a big hit, I didn't know if I'd be taken seriously after," Cuoco told Women's Wear Daily. "Because it was really good to be the girl in 'Big Bang.' But I knew I needed to push forward and find the next project to start this new path." It's clear that Cuoco guided herself in a profitable and daring direction. 
Kaley Cuoco shared this behind the scenes secret from her time in The Flight Attendant
Shutterstock
During an interview with People published in July 2021, actress Kaley Cuoco admitted that she was constantly taking bathroom breaks during the filming of the HBO Max series "The Flight Attendant." These frequent potty breaks were the direct result of the water that Cuoco was chugging during the filming of the show. Cuoco's character on the show, Cassandra Bowden, drank alcohol in many scenes in the show and Cuoco used water to mimic the appearance of alcohol. "It was all water which was great because I definitely got my water intake every day, but I had to pee every second! That was the other problem that came with it," Cuoco told People. "We had to take so many five-minute breaks 'because Kaley has to pee again.' It was a lot of water, yeah."
Though her character's drinking habits can be a bit extreme at times, Cuoco has learned not to let the character's drama affect her when she's not on set. "I'm really able to dip in and out of that manic hysteria and the work, then come back home and shut it off," Cuoco said. "I have to kind of separate. It's my only way. That's my process."
The first season of "The Flight Attendant" is available to stream on HBO Max.