How Kristin Davis Really Decided To Adopt Her Kids
Chelsea Guglielmino/Getty Images
Sadly, these days, plenty of women still must choose between having careers or becoming mothers. But, for Kristin Davis, it wasn't a case of work taking over but rather that her desire to have children simply increased as time went on. Finally, in her late 30s, the "Sex and the City" star realized she couldn't ignore that urge anymore. During an appearance on "Red Table Talk" with Jada Pinkett Smith, the actress admitted (via Today), "I can't explain it. It was a spiritual kind of thing."
Although it might have seemed too late for Davis to start a family, as she told Pinkett Smith, "I still felt like there was a child out there that I needed to find that was my child." As a result, adoption was the most reasonable option. The beloved star welcomed her daughter, Gemma Rose, in 2011 followed by a son, whose name has yet to be revealed publicly, in 2018. It was an easy decision for Davis in the end, and this is how she figured out that adoption was the best choice for her.
The SATC star felt a spiritual desire to be a mother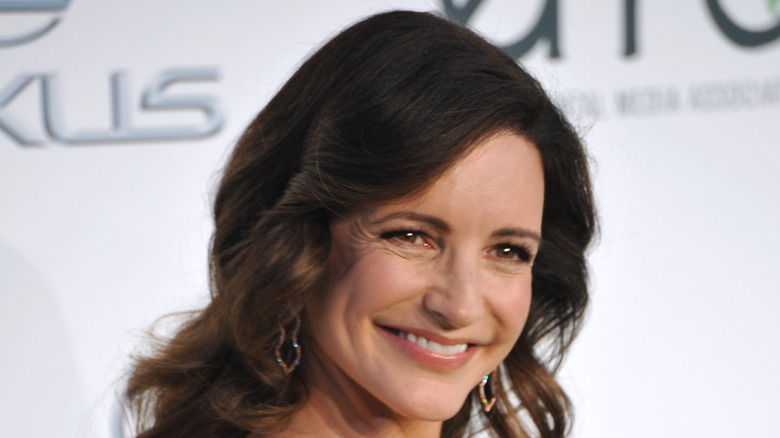 Shutterstock
In an interview on "Red Table Talk," actress Kristin Davis opened up about her experience adopting two children domestically. "I don't know why, and I don't know how, but it had seemed like an option for me for a very long time," she explained of her decision to adopt (via Women's Health). Davis admitted that time moved on, and she wasn't really considering her options too closely since work was so busy. Then, suddenly, "at 38, which is a little late, I feel deeply that I need to be a mother," she recalls. Both of her children are Black, because, as she explained to Pinkett Smith, when starting the initial adoption process, she felt it would be racist to opt out of taking on non-white children (via ET). 
A social worker then interviewed Davis at home, beginning a lengthy process to ascertain how the "SATC" star would approach raising a child of a different race. She even took online courses in preparation for adopting Gemma Rose — one was dedicated to taking care of the child's hair, for instance. The actress takes her responsibilities as a mother of Black children very seriously. "I'm still learning," she said. "You need to, just like you would your own child you gave birth to, learn what is best for their skin and their hair. And if you don't, you will be judged harshly."