The Real Reason Kristin Davis Left Melrose Place
Shutterstock
Kristin Davis has been working steadily as an actress for several decades at this stage, with her first credit as per IMDb being 1988's "Doom Asylum," but her biggest role by far is Charlotte on "Sex and the City." The beloved show was a formative experience for women all over the world. For Davis herself, "SATC" proved imperative not just for her career but her life, too. Without the success it brought, Davis might not be here.
"I don't think I would be alive," she revealed, during an appearance on podcast "Origins with James Andrew Miller," via EW. Davis elaborated, "I'm a recovering alcoholic. If I hadn't found acting... acting is the only thing that made me want to ever get sober. I didn't have anything that was that important to me other than trying to dull my senses." Despite how popular "SATC" inevitably was, and how much of an impact it made on Davis, she was actually in another major show long before it. 
She has no regrets about the decision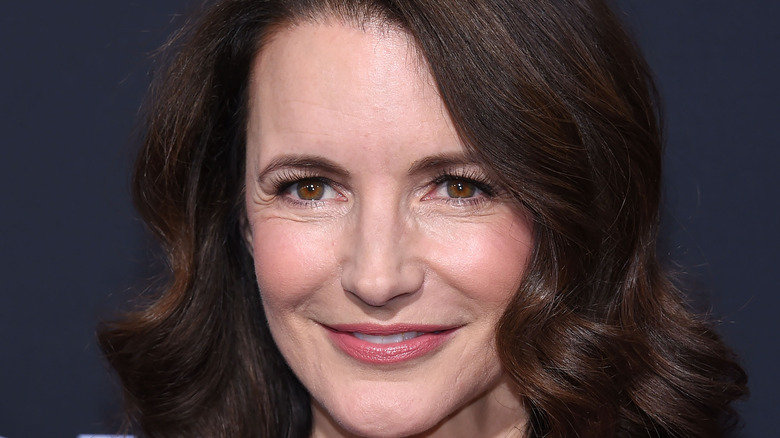 Shutterstock
Elle describes Kristin Davis's character on "Melrose Place" as a hilariously inept schemer, noting her "overambitious Brooke clawed and connived, faked a pregnancy and attempted suicide, when really all she wanted was a little attention." In keeping with her less-than-stellar reputation, Brooke's death was humiliating, with the poor woman getting hammered, falling into the Melrose pool, and drowning after hitting her head. Reportedly, Brooke wasn't terribly popular with viewers, but that's not why Davis ultimately walked away. In an interview with the Virginian Pilot, she admitted, "It was a wonderful experience and it meant a big paycheck, but I have no regrets about leaving." The problem for Davis was that, after a while, the writers started running out of stuff for certain characters to do, and decided to kill them off as a result. 
The "SATC" breakout did her death scene four times, bashing her head on the side of the pool, which was padded of course, but Davis still ended up bruised and battered. She acknowledged tabloid stories were difficult to deal with during her time on the hit show, noting, "They print so much dirt about us ... It's just gossip. It's all made up." Supervising producer Carol Mendelsohn, who worked on the show from 1994 to 1999, revealed during an oral history with THR that although it was tough to see stalwarts of the show, such as Davis, leave, "By the seventh season, though, I think everybody had slept with everybody."