Did This Tragic Event Sever Donald Trump And Ron DeSantis' Relationship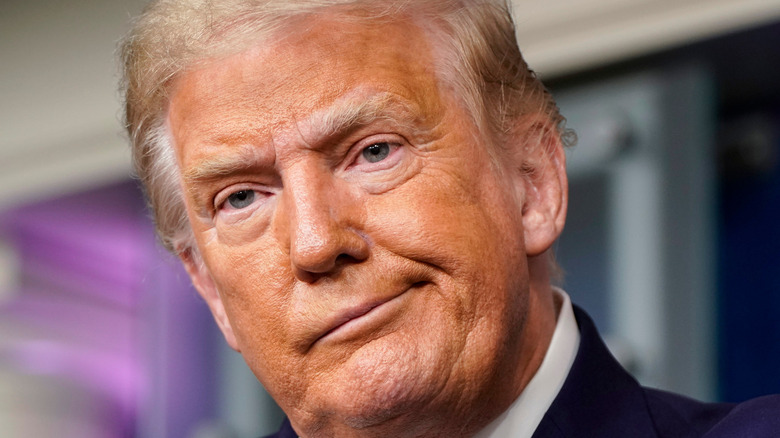 Shutterstock
It's no secret that Donald Trump has praised Republicans who have been loyal to him and the GOP from the get-go, like Florida governor Ron DeSantis – someone who Trump said he's considered as his potential running mate in the upcoming 2024 election. "Sure I would ... I would certainly consider Ron," Trump told Fox Business' Stuart Varney in June. "I was at the beginning of Ron. I was the first one to endorse him when he came out as a congressman that a lot of people didn't know, and my endorsement helped him tremendously," Trump said. "And I know him very well. He's a great guy."
And although it's been a little over six months since Trump left the White House, the former president is still holding rallies for his loyal supporters like he's still in office. He has also made the rounds to various right-wing podcasts, television shows, and more to spread more false information about election fraud, his response to the coronavirus pandemic that left hundreds of thousands of Americans dead, and of course, has attacked the Biden administration (via USA Today).
Recently, the one-term president held one of his infamous rallies in Sarasota, Florida over Fourth of July weekend; however, DeSantis, one of his longtime friends and supporters, was noticeably absent — and for good reason.
Ron DeSantis' team reportedly asked Donald Trump to postpone his rally because of the Surfside condo collapse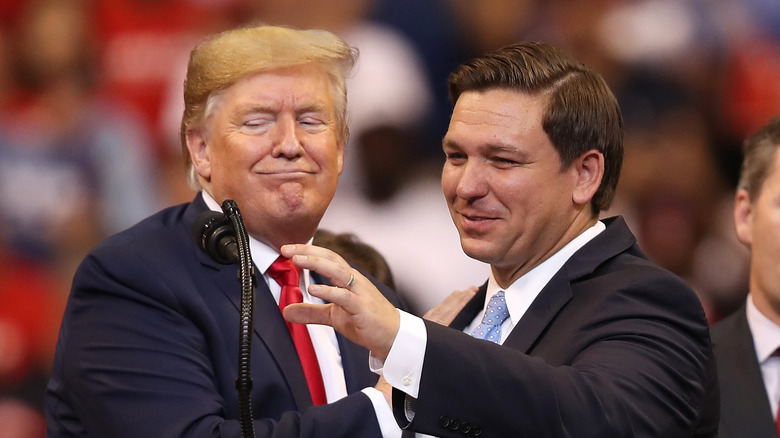 Joe Raedle/Getty Images
Before Donald Trump's rally, which was held the weekend of Fourth of July 2021, Ron DeSantis' team reportedly asked for Trump's rally to be postponed, considering that the recovery mission for the tragic Surfside condo collapse was still in full swing.
The governor's office put out an official statement denying that they had ever asked Trump to postpone his rally in the wake of what will likely be one of the deadliest building collapses in American history, part of which read, "[DeSantis] is focusing on his duties as Governor and the tragedy in Surfside, and has never suggested or requested that events planned in different parts of Florida — from the Stanley Cup finals to President Trump's rally — should be canceled," via USA Today.
And while Trump clearly held his rally over the holiday weekend, his team's reasoning for moving forward with the event was a bit tacky. "The event in Sarasota, however, is on the other side of the state, 3 1/2 hours away, approximately the same distance from Boston to New York, and will not impact any of the recovery efforts," Trump spokesperson Liz Harrington said of the rally. She went on to say that the rally included fundraising efforts for the Surfside families.  
The Florida tragedy may sever Ron DeSantis and Donald Trump's relationship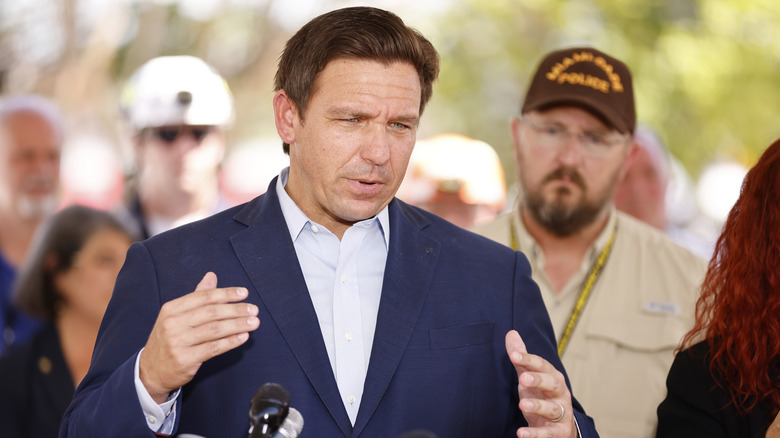 Michael Reaves/Getty Images
Ron DeSantis has been focusing his efforts on the tragedy in Surfside over the last couple weeks, and although he's sided with the GOP on many issues in the past, the Republican governor has seemingly put aside party differences and has stood in solidarity with local officials, Republicans, and Democrats — including President Joe Biden – in wake of the collapse. While common sense tells anyone with a conscious that bipartisan issues shouldn't matter when it comes to an unthinkable tragedy, it's a telling sign that DeSantis can tone down some of his political rhetoric and work with officials from the Democratic party — something that Donald Trump has proven that he cannot and will not do, and has criticized politicians who do so.
"The governor has been decisive. He's been constant. He's been collaborative," Miami-Dade County Mayor Danielle Levine Cava, a Democrat, said of DeSantis' response to the collapse (via Yahoo!). "Hats off to the governor for how he has supported us in this crisis."
It seems as though DeSantis' response and willingness to work with officials across all parties will only help him in the long run and further distance him from Trump — especially considering that he's the top contender for the GOP party in the 2024 election, according to a straw poll conducted in June (via The Hill).