Ron DeSantis Could Be Trouble For Donald Trump's Future In Politics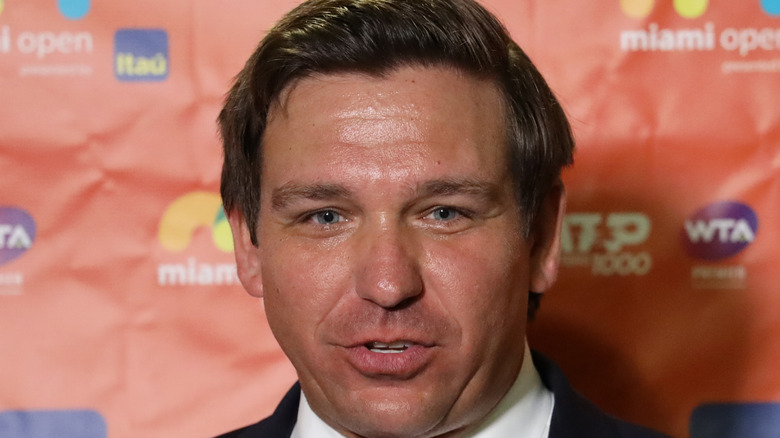 Shutterstock
It's been relatively quiet on the political front ever since one-term President Donald Trump left the White House in January, thanks to most social media apps banning the former reality television star after his part in helping incite the Capitol riots just two weeks before Joe Biden took office (via New York Times). Just because Trump's been banned from most social media doesn't mean he's been completely quiet, though — in fact, Trump hasn't been shy about talking about the future of the Republican party and whether or not he's planning on running for office again in 2024.
"I think we have a lot of people, we have a lot of young good people," Trump told Lisa Boothe of the Republican party back in April (via NY Post). "Ron DeSantis is doing a really good job in Florida and I think Josh Hawley has shown some real courage in going after Big Tech, you know they go after him. Josh is terrific."
Later that month, Trump even floated the idea of picking DeSantis as his potential 2024 running mate, telling Fox Business host Maria Bartiromo, "He's a friend of mine. I endorsed Ron, and after I endorsed him, he took off like a rocket ship. He's done a great job as governor. A lot of people like that — you know, I'm just saying what I read and what you read — they love that ticket," Trump added. "But certainly, Ron would be considered. He's a great guy" (via Politico).
Here's why Ron DeSantis may be bad news for Donald Trump's potential 2024 run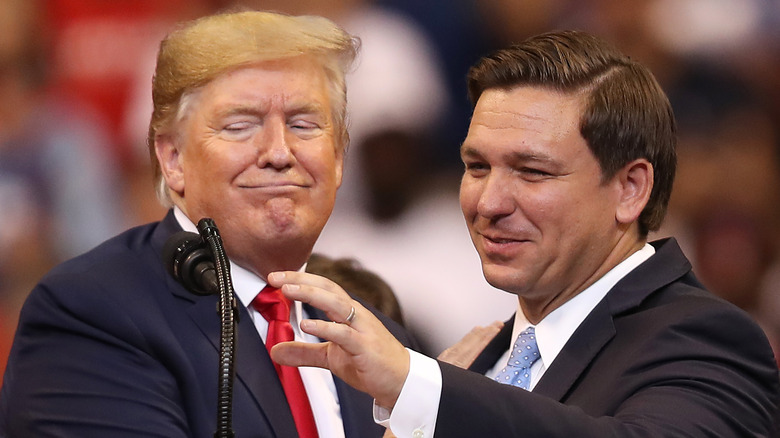 Joe Raedle/Getty Images
According to a straw poll taken at the Western Conservative Summit in Denver on Saturday, June 19, both in-person and online attendees picked Ron DeSantis as their top GOP choice to run in 2024 (via The Week). DeSantis just barely edged out Donald Trump by a few percentage points, while Senator Ted Cruz was attendees' third pick, followed by Mike Pompeo and Senator Tim Scott. While straw polls are obviously not official polls — and the 2024 election is still years away — it does tell us that perhaps the Republican party may be starting to shift away from Trumpism, whether people like it or not.
"This says everything you need to know about the state of the @GOP right now," one Twitter user wrote, while another issued their own analysis of the poll, writing, "Sorry Mr. Trump. LOVE your policies, your spine and your ability to get things done. But I think Ron can sell his ticket on the notion of making America Florida resonate with all the age groups including minorities. Too many tweets made Mr Trump a harder sell."