Olympian Allyson Felix's Net Worth Might Surprise You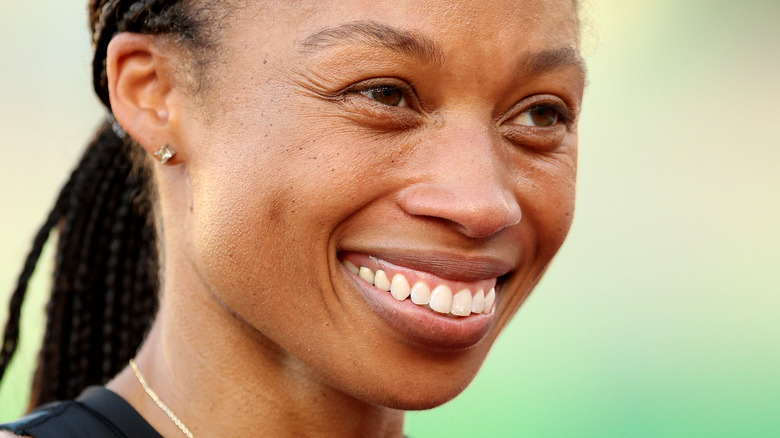 Patrick Smith/Getty Images
As one of the most decorated sprinters in U.S. track and field history, it's safe to say that Allyson Felix has run her way all the way to the top. Since earning her first medal at the 2004 Olympics at the mere age of 18 years old, the accomplished sprinter now holds the record for the most Olympic track and field medals won by an American woman, with a total of nine medals at four different Olympics (via the Los Angeles Times). 
Now, as Felix is gearing up to compete at the 2021 Tokyo Olympics — reportedly her fifth and her last — she just needs one more win to become the most decorated Olympian female track athlete from any country. But winning medals, of course, isn't why she's racing. "It's not just about me running fast," Felix recently told The New York Times. "It is about doing very specific things — advocating for women — or seeing how this career makes sense beyond 'I need more medals.' Because I don't." 
Indeed, Felix already has plenty of success and accomplishments to her name. Given her impressive athletic career, though, we've got to wonder: How much is her total net worth?
Here's how much Allyson Felix has earned from her history-making career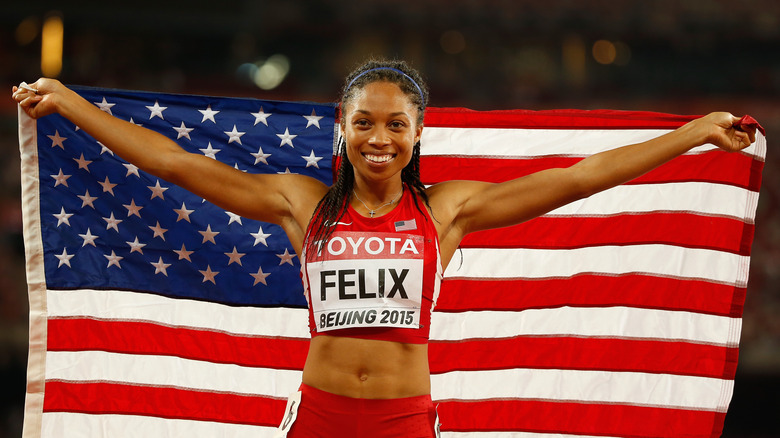 Christian Petersen/Getty Images
As it turns out, being an Olympian earns you quite a lot of money! According to Celebrity Net Worth, Allyson Felix has a net worth of $4.5 million as of 2021. This massive number, of course, is all thanks to her wildly successful career as a track and field star — most notably, her history-making title as a nine-time Olympic medalist. 
Of course, with her impressive number of Olympic medal wins and other accolades, Felix has earned some pretty big sponsorships and endorsement deals, too. The athlete previously had a longtime sponsorship with Nike — until she famously broke her ties with the shoe brand in 2019, following a highly publicized dispute over unfair maternity coverage which involved Nike paying Felix 70% less after she gave birth to her daughter, per The New York Times. 
Not long after, though, Felix snagged a sponsorship with Gap's Athleta — and now, she's even launching her own shoe company, as she recently announced in an exclusive interview with TIME. Her brand, called Saysh, will focus on creating footwear specifically for women — and it's Felix's hope that it will "bring about some change."
As for other ways that Felix is trying to bring about change? According to TIME, the athlete is planning to donate her winnings from the upcoming Tokyo Olympics to Right to Play, a humanitarian organization that "seeks to increase sports access in disadvantaged areas around the world." Here's hoping she'll win that gold!