The Truth About Olympian Caeleb Dressel's Relationship With Meghan Haila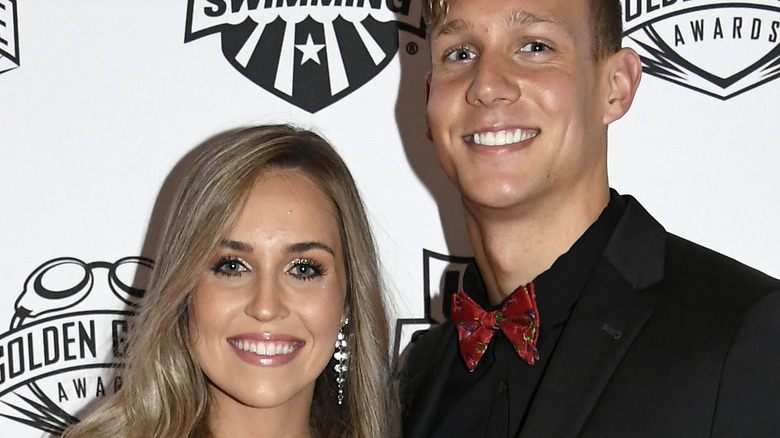 Kevork Djansezian/Getty Images
In just a few weeks, swimmer Caeleb Dressel is favored to win at least one gold medal at the 2021 Tokyo Olympics. Dressel made his official Olympic debut at the 2016 Rio Olympics where he snagged two gold medals, according to Team USA's website. Five years later, Dressel is ranked second in the world for the men's 100-meter freestyle and currently boasts the world record in the 100-meter butterfly, per NBC Sports. While his focus might currently be on the Olympics, Dressel had his sights set on something a bit sweeter in the early months of 2021. 
Back in February, 24-year-old Dressel tied the knot with Meghan Haila in an intimate ceremony in their hometown of Jacksonville, Florida (via Team USA). "The best day of my life. I can't even begin to explain how beautiful marriage already is," Haila wrote in an Instagram post just a few days after her wedding. Dressel popped the question in November of 2019.
Dressel and Haila are high school sweethearts
Fittingly, Caeleb Dressel and Meghan Haila first met in high school while they were training with the Boiles School Sharks in Jacksonville, Florida, per Team USA's website. The pair started dating back in 2013, when Dressel was only 16 years old. Dressel and Haila remained together even after attending separate colleges. After high school, Dressel went on to swim with the University of Florida, where he became a 10-time NCAA national champion, while Haila attended Florida State and swam with the Seminoles.
As one can imagine, dating an Olympian with a demanding training schedule can mean that you spent much of your time apart. Back in 2016, while Dressel was competing at the Rio Olympics and Haila was competing on Florida State's swim team, she spoke to Odyssey about how (and more importantly, why) the couple worked hard to find the time to see another while juggling incredibly busy schedules. "To be honest it's not always easy, but I'm a firm believer in that if you want to spend time with someone, you make the time," Haila told Odyssey. "Both of us just make time for each other whenever we can and we've made it work for two years now being across the state. I think because we've had to deal with distance, it's made us stronger as a couple."