What Happened At Sha'Carri Richardson's First Public Appearance After Her Olympic Suspension?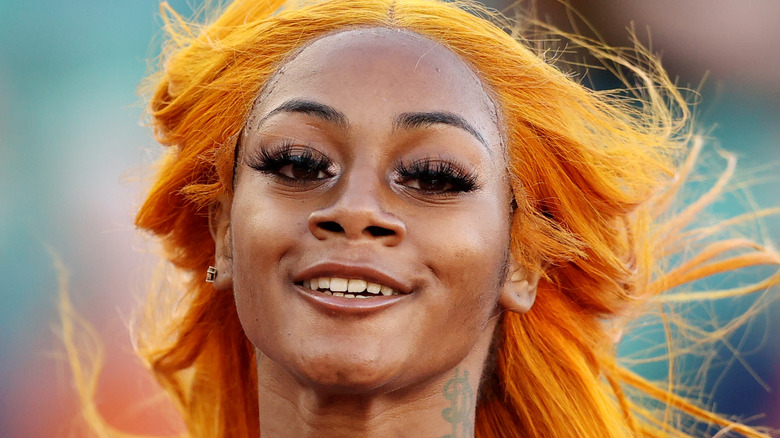 Patrick Smith/Getty Images
This should have been the greatest summer of Sha'Carri Richardson's life. The young sprinting phenomenon earned herself a place on the U.S. Olympic track and field team with her outstanding performance in the 100-yard dash event, only to have it snatched from her weeks later for failing a drug test, per CNN. Richardson admitted that she had smoked pot as a response to the "emotional panic" she felt after learning her biological mother had died. "As much as I'm disappointed, I know that when I step on the track, I don't represent myself," she said on the "Today" show. "I represent a community that has shown me great support, great love, and I failed you all."
The organization's decision sparked debate among fans and celebrities. Some fell into the "rules are rules" camp, while others, including Halle Berry, objected to the ban. One surprising supporter was Donald Trump Jr., who tweeted in part: "The woke olympics sucks! Let her compete, I'm pretty damn sure weed has never made anyone faster." (His tweet, however, also contained a transphobic comment.)
Richardson hasn't given any interviews since her statement on "Today," but that doesn't mean she's hiding from the public. On July 10, she attended ESPN's annual ESPY Awards ceremony in New York. The sprinter stunned in a glittering black-and-silver gown, and her previously orange hair was toned to a deeper red. Her appearance didn't go unnoticed by the event's host, Anthony Mackie. His opening remarks drew laughs and lots of attention.
Anthony Mackie protested Sha'Carri Richardson's Olympic ban
Sha'Carri Richardson was one of a number of celebs in the audience at ESPN's annual ESPY Awards; others included Amanda Nunes, Joe Namath, Mikaela Shiffrin, and the newly crowned spelling bee champ, Zaila Avant-garde. Mackie pointed out the sprinter during his joke-filled opening monologue (seen here on YouTube). "USA Track & Field. How'd you mess it up, dog?" he said. "How do you justify banning Sha'Carri Richardson for smoking weed? Weed is a de-hancing drug — it doesn't make you do anything but want to watch another episode of 'Bob's Burgers.' You never saw Snoop Dogg run anywhere!"
The camera cut to a reaction shot of Richardson, who chuckled quietly. The actor (and new Captain America) went on to say, "I don't see how you justify not letting her run." 
Richardson hasn't given any other interviews recently, but her social media posts seem to indicate she has mixed feelings about the whole affair. Her Twitter feed includes comments about accountability, positivity, and "new beginnings" — but it also includes tweets about not being perfect, and statements like "[E]njoy the games because we all know it won't be the same."