Inside Lauren Boebert And Donald Trump's Relationship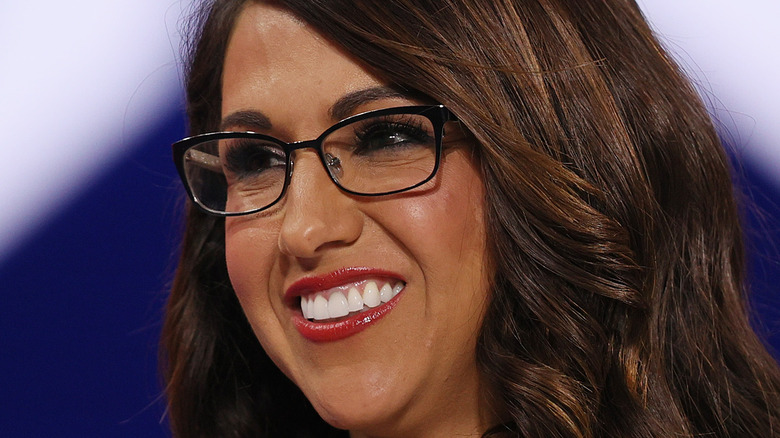 Joe Raedle/Getty Images
Many Americans were thrilled when Joe Biden took office, but controversial conservative congresswoman Lauren Boebert let everybody know she wasn't even paying attention to his inauguration by posting a selfie at outgoing president Donald Trump's final speech instead. As The Independent reported at the time, Boebert was accused of playing a key role in the infamous Capitol riot, which took place on January 6 and ruthlessly shattered perceptions of democracy as we know it. While the ordeal was happening, Boebert even claimed to have constituents standing by.
The gun rights activist was also allegedly spotted guiding a group of people through a tunnel connected to the building just days before the horrifying attack took place. Boebert described such claims as "false" and "slanderous," with the congresswoman arguing "death threats and hundreds of vile phone calls and emails" had been made towards her as a result of the damning reports. Given the increasing calls for her to step down, does Boebert regret her devotion to Trump?
Lauren Boebert is still a devoted Trump follower
Joe Raedle/Getty Images
According to the Washington Examiner, Lauren Boebert is scheduled to meet with former President Donald Trump this month, confirming simply, "I remain close with President Trump." She quickly clarified, "I guess not 'remain' — so I've always been close with him in my heart, but now I am close with him, which is really nice." Boebert also argued the former commander-in-chief, who's seen his grip on the nation's attention evaporate since several social media sites kicked him off, is "still fighting harder than ever for America." She refused to go into detail about what the two were meeting about, however, though Boebert did confirm she isn't running for higher office just yet. 
KDVR reports the controversial duo originally met back in 2020, while Boebert has visited Mar-a-Lago several times in the intervening months, for various events (via Real Vail). It was her initial victory over favorite-to-win Congressman Scott Tipton in the primaries that caught Trump's attention, with the then-president reportedly even calling Boebert to congratulate her. As the congresswoman gushed, "I am the battle tested MAGA candidate. I knew from the beginning I was more MAGA than my opponent." Although Boebert remains a controversial commentator, it's worth noting that just last month she was cleared of participating in instigating the Capitol riot, as per the Washington Examiner.
Her continuing relationship with Trump also suggests he still holds sway with the Republican party, or at least with certain elements of it.