Why Sarah Hyland And Wells Adams Have Postponed Their Wedding Twice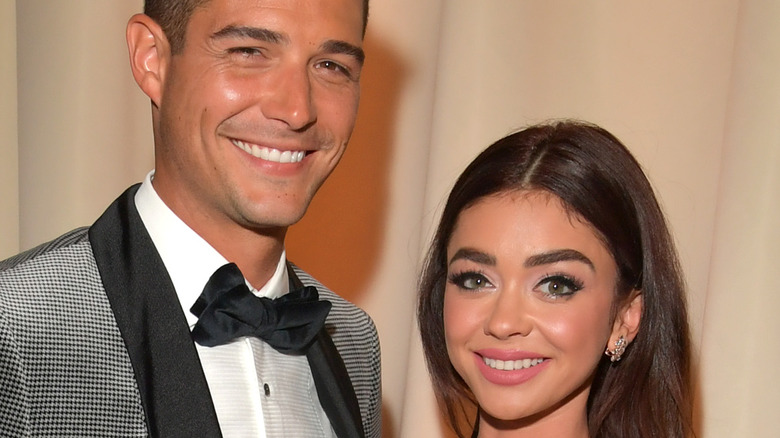 Lester Cohen/Getty Images
Actress Sarah Hyland and reality star Wells Adams have one of the cutest love stories in Hollywood. According to Us Weekly, they met when the "Bachelor in Paradise" bartender and potential next "Bachelor" host slid into the "Modern Family" star's DMs on Instagram back in 2017. They got engaged in 2019, sharing a video of the beach proposal to Instagram. But, well, it's been a long engagement, with the couple recently revealing they have already had to put off their nuptials two times.
When asked where the wedding stood in a pandemic world, Adams recently told Us Weekly, "Wedding update — nothing! We've had this thing postponed twice and honestly, I don't know if I can take a third one. So just pray for us, please."
As the outlet reports, the cute couple intended to say "I do" in August of last year, but due to COVID-19 restrictions, they had to push back the date. The good news is that Hyland had a sense of humor about the situation.
Sarah Hyland and Wells Adams can't wait to wed
Upon deciding to delay the wedding, Hyland told Ellen DeGeneres during an appearance on her talk show, "I brought a white dress and a veil I got on Etsy and my bridesmaids got a real wedding bouquet and surprised me and we took fake wedding pictures for fun!" As Bustle shared, the couple continues to hang in there when it comes to planning their wedding. Hyland posted in an Instagram birthday tribute to her future hubby this May, "Can't wait to finally marry you one day."
The actress also recently posted a photo of the duo kissing along with this sweet caption: "2 years engaged, almost 1 year of 'would have been married,' but forever in love with you."
As for what they are waiting for — as one fan asked in the comments section of the latest update — what Hyland told People in October of last year might explain it. "We definitely want to get married one day and have the wedding of our dreams and have everybody that we love there," she said.