The Truth About Olympian Shaunae Miller-Uibo's Marriage To Maicel Uibo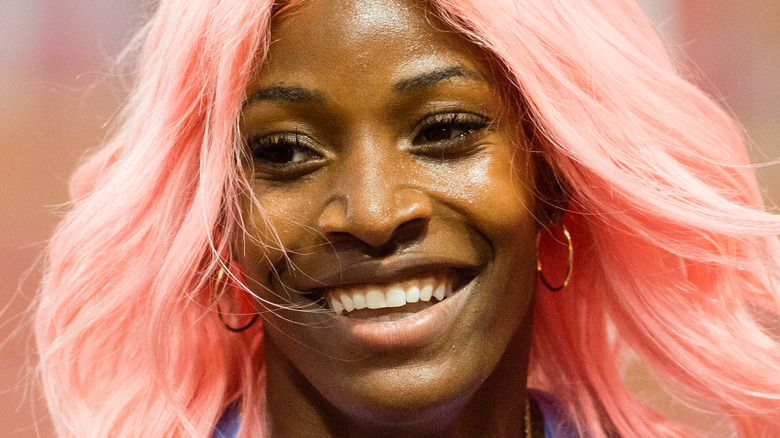 Marco Mantovani/Getty Images
Bahamian native Shaunae Miller-Uibo has been living life at the top end of her Olympic gold medal-winning career for quite some time now. The 26-year-old athlete – affectionately nicknamed "Golden Girl" – has been winning relay and 400m titles since she was a young girl and became the first Bahamian to win the 400m at the World Junior Championships in Athletics in 2010 aged just 16 (via GBR Athletics). 
A professional athletic career followed the track star in 2013 (via Jamaica Observer). At the 2016 Olympics in Rio de Janeiro, Miller-Uibo took home the gold medal in the 400m, beating Allyson Felix across the line by a mere 0.07 seconds (via The Telegraph).
As a 200m, 400m and 4x400m champion with world best in 200m indoor track (via World Athletics), it's only natural that Tokyo Olympics 2021 hopeful Miller-Uibo would find someone who would understand the demanding role of a career in world-ranking athletics and someone who could keep up with her (literally) to spend the rest of her life with. Enter: Estonian decathlete, Maicel Uibo.
Shaunae and Maicel are college sweethearts
Shaunae and Maicel  Uibo met at their alma mater, the University of Georgia (via Olympics), but their meet-cute in freshman year of college wasn't quite as romantic as you might hope. "I think my first words to [Shaunae] were, 'Oh, so you're the girl who has the [better] PB than me,' meaning the 400m...," Uibo told the Olympic Channel Podcast ahead of the Tokyo 2021 games. After some "confusion" from Shaunae at first, she realized he was a decathlete and not a 400m runner – and the couple have been together ever since.
That pair tied the knot in February 2017 on Paradise Island in the Bahamas. Just a week later, newlywed Shaunae was victorious in the 300m at the Millrose Games, running it in 35.71 seconds, the third fastest time in history (via The Tribune), and the duo have continued their meteoric rise as a true power couple within international athletics. 
At the 2019 World Athletics Championships in Doha, Miller-Uibo came in second place in the 400m to win her a silver medal, just as her husband Uibo was preparing to run the 1,500m race, the tenth and final event in the decathlon (via Reuters). Uibo came in third, which meant a silver medal for him overall in the decathlon event, resulting in two silver medals for the Miller-Uibo family. "Both medals at the same time, on the same night," Uibo told reporters after the event. "It's double the joy."