The Truth About Zayn Malik's Relationship With Gigi Hadid's Family
John Shearer/Getty Images
The name Hadid certainly carries weight in Hollywood, and joining the family may not be as easy as many think. After Gigi Hadid welcomed her daughter, Khai, with Zayn Malik during the pandemic, the former One Direction singer got to spend even more time with his new family.
Hadid and Malik have a place of their own now, according to the supermodel's interview with Harper's Bazaar, and it's just down the street from her mother's home. The new mom spoke of her family and their dynamic, gushing, "Whatever the family dinner-table discussion is, Bella will be very emotional and compassionate, and I'm sitting there pulling up charts and infographics, speaking very calmly. My mom is just very Dutch and to the point. And my dad's a storyteller — a bit goofy, but always connecting it back to, 'Oh, you've heard the old Palestinian saying ...'"
As for where her boyfriend fits in, he initially struggled to keep up with the lively conversation. "At first he was like, 'How do I get a word in edgewise?' But now he is very comfortable. He speaks his mind. When he's in the middle of a family thing and everyone's like, 'Zayn, whose side are you on?' he's charming."
"He's usually on my mom's side," she continued. "So he's smart in that sense."
Gigi Hadid shared about her daughters interests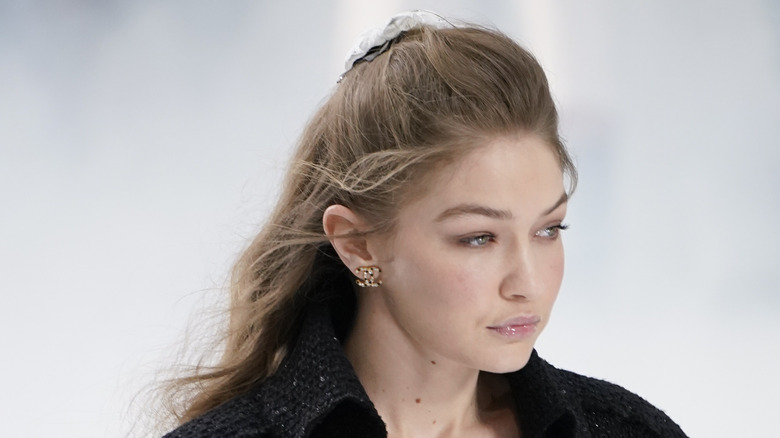 Peter White/Getty Images
Baby Khai, 10 months, is surrounded by her big family. Hadid told Harper's Bazaar that she and Malik take her to art museums, on nature walks and to the aquarium. Eventually, Hadid noted, she will likely take up her mother's love of horseback riding. The couple welcomed Khai last September, with the model opening up about her home birthing experience. According to People, her mother, sister and Malik were by her side throughout the journey.
"I know my mom and Zayn and Bella were proud of me, but at certain points I saw each of them in terror," she told Vogue of the experience. "Afterward, Z and I looked at each other and were like, 'We can have some time before we do that again.'"
With her circle so close, Gigi Hadid has tons of support after becoming a mom at 25. Recently, People reports, Yolanda Hadid shared a photo of her granddaughter playing with crystals. "Morning meditation with Oma...... #Khai," the 57-year-old captioned the snap. She also wrote a touching tribute earlier this year, saying, "I wasn't sure how to get by without my mamma but loving Khai awoke a part in my heart I never knew existed."
Clearly, baby Khai brought the Hadid family even closer than before.