Why Gymnast Jordan Chiles' Mom Will Be Absent During Her Olympic Debut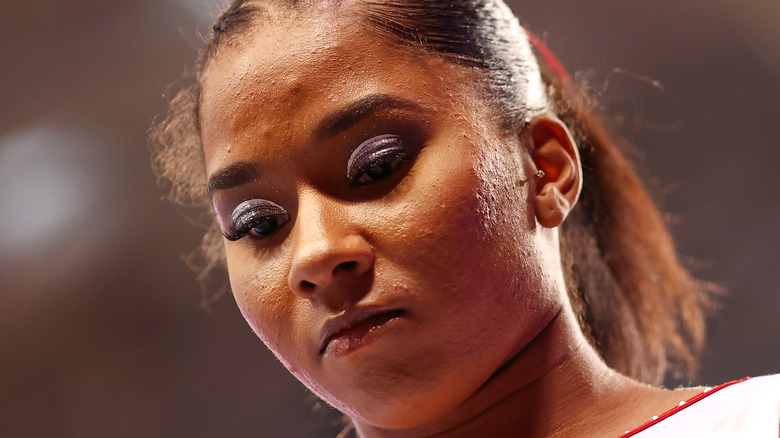 Carmen Mandato/Getty Images
The 2021 Olympics are quickly approaching and the highly anticipated gymnastics events are set to begin on July 24, 2021 (via Today). This year, the women's team is defending their two-time championship title in Tokyo (via Time). The U.S. is already the favorite to take home the gold this year and will be lead by Simone Biles, Sunisa Lee, Jordan Chiles, and Grace McCallum, as well as Jade Carey and MyKayla Skinner, who is slated to compete in the newly founded individual events.
Though everyone competing on Team USA has a unique story, 20-year-old rising star Jordan has the most heartbreaking tale (via People). After years of preparing to make her Olympic debut, Jordan is finally achieving her dream at the same time her mother, Gina Chiles, is heading to prison. If Team USA makes it to the finals, Jordan will have to compete on the day her mother reports to prison for her sentence.
Gina Chiles wishes she could be with her daughter at the competition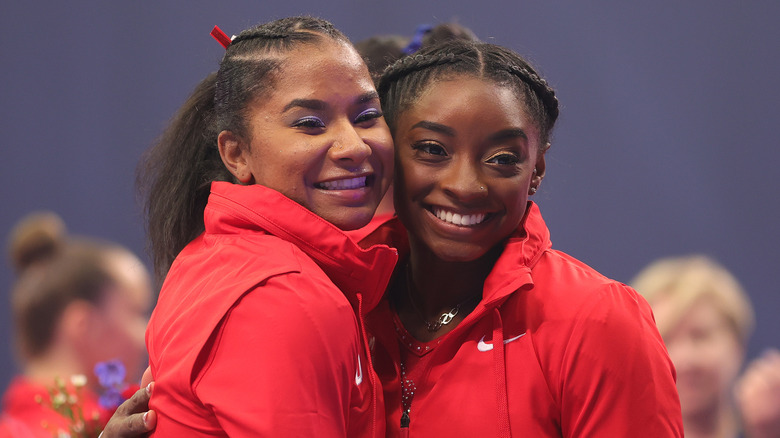 Carmen Mandato/Getty Images
During an interview with NBC's Hoda Kotb, Gina Chiles opened up about her situation (via People). While talking about her daughter with the other mothers of the U.S. women's gymnastic team, Gina said, "Every moment that I watch Jordan is the most amazing moment as a mom. And so I just am looking at it as not bittersweet, but just sweet, period, that she's here." This typically joyous occasion is soured by Gina's prison sentence. After pleading guilty to one count of wire fraud, she is scheduled to serve one year and one day in jail.
CBS 42 reported that Gina admitted to using her commercial properties management business, Inspire Vision Property Management LLC, unlawfully. She pleaded guilty to stealing from her clients and spending hundreds of thousands of dollars on personal expenses. Though Gina won't be able to support her daughter, Jordan Chiles, in person, she is grateful Jordan will have Simone Biles by her side. 
"Simone really pushes because she pushes herself," Simone's mother, Nellie Biles, said. "And I see her doing the same thing, too, with Jordan. And that bond has just — I mean, they fight, believe me. They do fight. We don't get into it. I don't get in the way because the next minute, they're hugging. That's a special relationship that they have."