The Truth About Jennifer Aniston And Paul Rudd's Relationship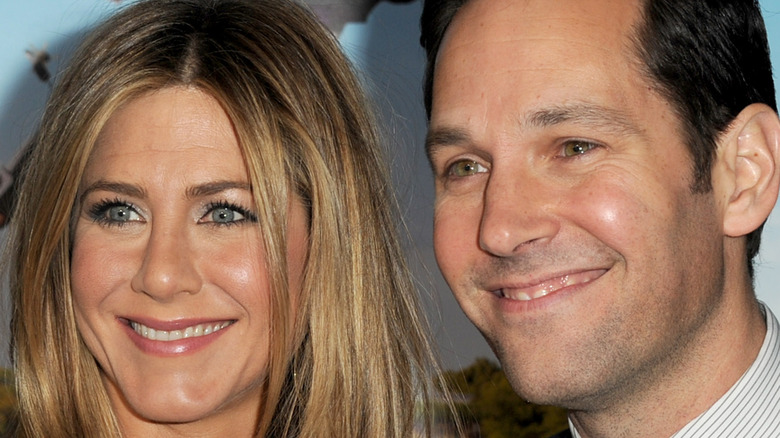 Kevin Winter/Getty Images
For years, tabloids and fans alike have speculated about who Jennifer Aniston was dating. Sometimes accurately, in the case of exes like Justin Theroux and John Mayer, but also inaccurately, as was the case with her co-stars like Matt LeBlanc and David Schwimmer (via Entertain Times).
But there's one romance Aniston had that may have slipped under the radar: Her relationship with "Clueless" actor Paul Rudd (via Cosmopolitan).
Years before Rudd joined the cast of "Friends" in 2002 as Mike Hannigan, Phoebe's love interest and eventual husband, Rudd starred opposite Aniston in the 1998 film "The Object of My Affection." In the film, Aniston plays a single woman who falls for her best friend, played by Rudd – the only catch is he happens to be gay.
However, even if on-screen Aniston and Rudd's characters would never work, off-screen their chemistry did translate into a romantic relationship. Although Rudd and Aniston only dated briefly, the two were able to remain friends, even reuniting to play a married couple in 2012's "Wanderlust" – a film that also stars Theroux (via Harper's Bazaar).
Paul and Jennifer's relationship remains strictly platonic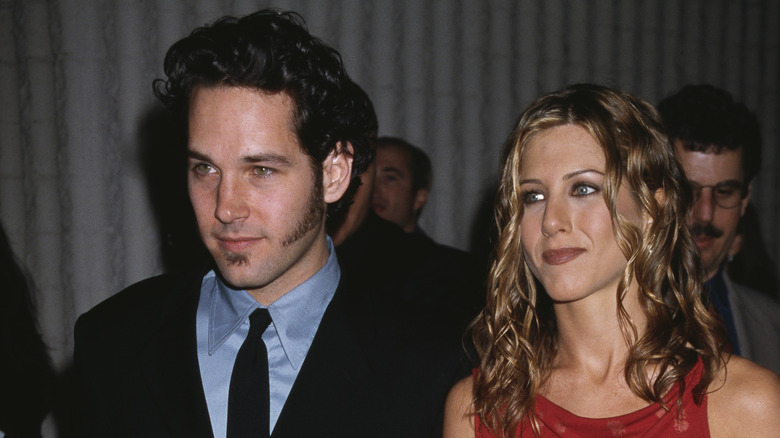 Michael Ochs Archives/Getty Images
When promoting their film "Wanderlust," GQ asked Paul Rudd and Jennifer Aniston if, as longtime friends, it was weird for them to kiss on-screen. Aniston then replied, "Nah. I've kissed him for years," to which Rudd added, "We've made out for decades," referencing the multiple films where they played love interests.
Despite their obvious chemistry, it wasn't meant to be between Rudd and Aniston. In 2003, Rudd married his wife, Julie Yaeger, and the two remain together today (via Good Housekeeping). The two first met in 1995 when Yaeger was working for Rudd's new publicist. Yaeger and Rudd share two kids, a son named Jack and a daughter named Darby.
And as pretty much everyone in the world knows, Aniston was headed towards her romance with Brad Pitt. The two would go on their first date in 1998 before marrying in 2000 (via Marie Claire). Although they would eventually divorce, clearly it wasn't written in the stars for Rudd or Aniston, either.
So while we've been denied cute paparazzi photos of Aniston and Rudd together, at the very least, we know more movies co-starring the duo aren't off the table.