The Ultimate Guide To Achieving A Trendy Normcore Aesthetic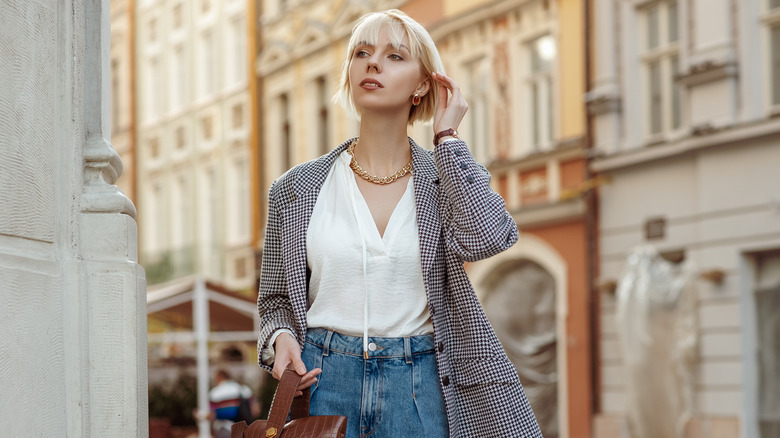 Shuttershock
TikTok cycles through fashion trends so often, that keeping up with what's in or has reached peak cheuginess feels like a full-time job. But the influx of trendy aesthetics like cottagecore and fairycore offers a bit of something for everyone, and makes it much easier to expand your closet and see what works. These trends also offer up the opportunity to experiment with styles you maybe never thought of trying before. If you're someone who doesn't really follow what's trending and will pick a basic tee and jeans over a more dressed-up look, your personal style aligns with the normcore aesthetic. 
Normcore, as told by The Cut, started off as a joke by the trend forecasting artist collective K-Hole. Their commentary critiqued people who spent a lot of time and effort on what they wore just to make it look like they didn't spend any time or effort. Its origins were purely accidental and ironic, but it ended up becoming something more. Though Highsnobiety declared this trend over in April 2021, many still follow this laid-back way to life and style.
If you've been debating updating your style but haven't found one that fits your down-to-earth personality, the low-key normcore aesthetic is right up your alley.
Hailey Bieber is the perfect billboard for this trendy aesthetic
Vogue UK crowned model Hailey Bieber as the perfect billboard for this trendy aesthetic, since her streetwear regularly features casual pieces that fly under the radar, but still look gorgeous together. Her November 2020 Instagram picture of her green-and-black North Face fleece jacket and cream beanie outfit is a prime example of normcore vibes. The trendy normcore aesthetic is all about dressing yourself in pieces that maximize comfort without having to adhere to any strict style rules or trends, or trying to stand out.
PopSugar broke down normcore fashion into five main categories: white sneakers, neutral tones, loose-fitting clothes, dad jeans (see Full House's Danny Tanner — the ultimate '90s dad icon) and anything that looks sporty. For true normcore style, your first stop should be to your closet. Pull out your favorite basic tee and cargo pants (if you have any), and then pair them with your sneakers (via Spot). Throw on a jean jacket or chunky cardigan in case it gets chilly later. Think of this as the normcore uniform for beginners. 
For colder months, if you want to experiment with different textures and layers, trade your jacket for an oversized trench coat and your favorite handbag (via The Zoe Report). It's really easy to mix and match pieces. But don't fall into the trap of thinking that bright colors are ruled out completely. Add a surprise pop of color using accessories or footwear to really pull your look together (via Spot).