Are Kate Middleton And Prince William Ready To Move Out Of London?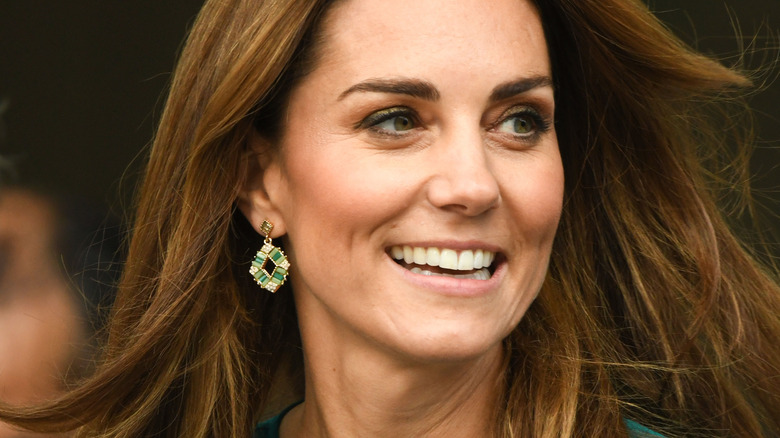 Shutterstock
Following their family move to the English countryside throughout the pandemic, Prince William and Kate Middleton may be considering a more permanent setup in nearby Berkshire. The family of five moved back into Apartment 1A in Kensington Palace after the series of lockdowns, but Marie Claire reports that the Cambridges may be heading out of London and moving to Berkshire for a more permanent residence. The outlet reports that insiders believe Middleton and Prince William have already looked at schools for their children in the area.
One of the main reasons many believe the couple may be looking to move involves proximity to her parents, Michael and Carole Middleton. The outlet notes that the two help out with the Cambridge children quite frequently, and with a royal schedule, having trustworthy help is crucial.
Throughout the pandemic and subsequent lockdowns the UK government imposed, William, Kate, George, Charlotte and Louis spent a lot of time in Norfolk at their country home, Anmer Hall. However, according to The Express, keeping their children in London long-term was never in the plans for the family — they've always planned on taking up a permanent residence outside of the bustling city streets.
Kate Middleton and Prince William have already looked at schools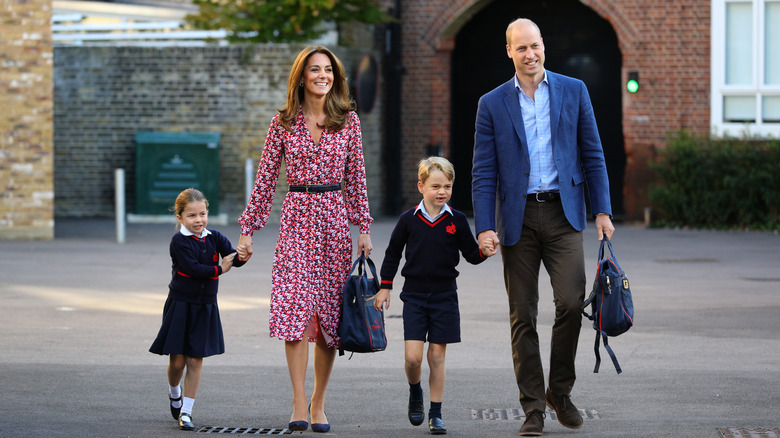 Wpa Pool/Getty Images
Perhaps the most telling sign, the royal couple has already toured various private schools for their children to attend in Berkshire. Currently, George and Charlotte are still enrolled at the exclusive London-based academy, Thomas's Battersea which is located towards the southwest of the city. The Express reports that the school instructs children up to age 13. Louis, the youngest Cambridge, attends Willcocks Nursery School in London. 
A source close to the couple told The Daily Mail, "Nothing has been decided and of course they could very well decide to keep the children at Thomas's, but William and Kate have recently visited schools in the Berkshire area, which has got a lot of people talking."
Some suspect that the Cambridges may board their children at Berkshire schools and maintain their residence at Kensington Palace. The Express made a point to note that both Prince William and Prince Harry attended boarding school at the age of eight and Prince George will soon celebrate his 8th birthday. Since the couple works heavily in London, they will likely keep their lodgings there no matter what setup they choose.
As for homes, some have noted that they may rent from the Queen and move into a wing at Windsor Castle. For now, only time will tell if the rumors are true and if the family is headed out of the capital.