The Best Places To Find Plus Size Swimsuits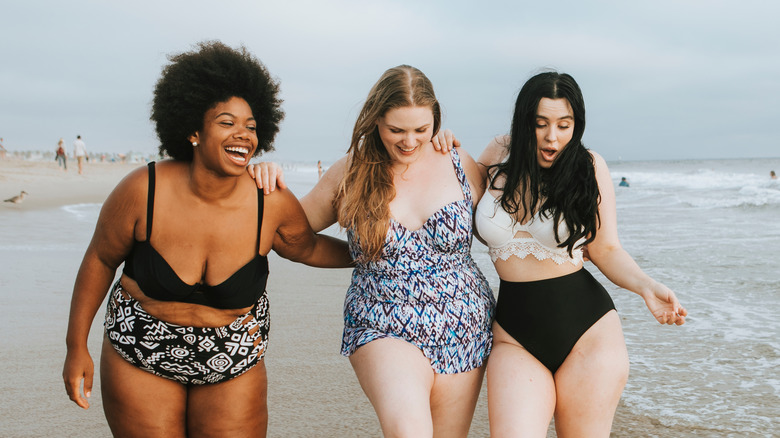 Shutterstock
Whether you're getting ready for a beachside vacation or you're ramping up your closet in time for summer, going bathing suit shopping is always fun. Getting brand new swimsuits that pop with color and patterns gets everyone pretty excited. But when you feel like every store only caters to one body type, all of that fun can quickly get zapped away. There's nothing worse than going to a store or a website and seeing every model appear exactly the same size — it can make you feel like an outsider, not to mention totally unwelcome. 
Thankfully, companies are increasingly becoming body- and size-inclusive, showcasing the fact that their products and swimsuits fit everyone, from petite to plus-size (via Elle). There's nothing we love more than seeing a representation of everyone in companies and brands. 
If you're looking to add some statement suits to your collection but need a size-inclusive site to help you, look no further. Here are some of the best online retailers for plus-size swimsuits. 
Head to these retailers for comfort, support, and style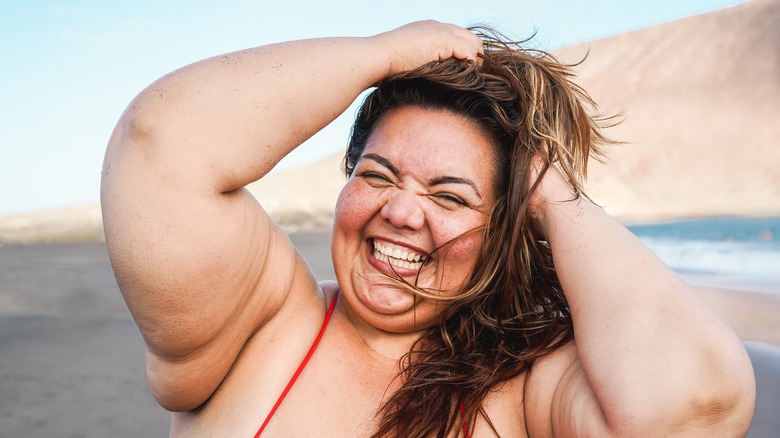 Shutterstock
One site that specializes in plus-size swimwear is Swimsuits For All. This site is amazing for women who may find it hard to nail down a correct size, because it not only has plus-size bathing suits — both bikinis and one-pieces — but it also allows you to buy separate tops and bottoms. There's nothing more frustrating than fitting into a top, but the bottom is too big (or vice versa), so the mix and match option is perfect for ladies who deal with this issue. 
According to Refinery 29, the company Girl Got Curves gives plus-size ladies the confidence to rock a string bikini, and their models prove that everyone can wear one. With reasonable prices and the option of picking out separates, this company offers some fantastic deals. 
Many plus-size women look for support and comfort combined when it comes to buying swimwear, and Harper's Bazaar points out that company CUUP is the best of both worlds. Known for its supportive and form-fitting bras, this company also sells swimwear that features underwire tops. The adorable pieces are stylish and supportive at the same time!
These sites carry tons of plus-size swimwear options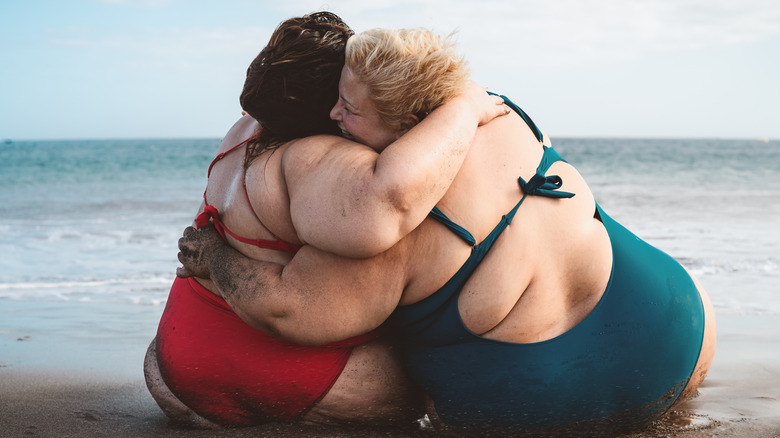 Shutterstock
While SHEIN may not be your first thought when it comes to plus-size wear and swimsuits, the blog Fat Girl Flow says that the company has "come a long way over the last several years." They not only offer tons of swimwear options, but their prices are also ridiculously low. As many shoppers point out, reading the reviews on their products is the best way to get your sizing right.
Another excellent site for plus-size swimwear is ASOS. If you've ever used their site before, you know that the company is always keeping up with the latest trends. According to BuzzFeed, their plus-size swimwear is no exception. Plus, BuzzFeed points out that the company's return policy is incredible, just in case something you order doesn't fit the way you want. 
One other site that is a "must try" according to BuzzFeed is Torrid. The company specializes in including built-in shapewear with their swimwear, and their swimsuits have built-in bras for extra support, too. That's a no-brainer!
When it comes to swimsuits, it's safe to say there is always something for everyone and every body!