Inside Kanye West And Sha'Carri Richardson's Relationship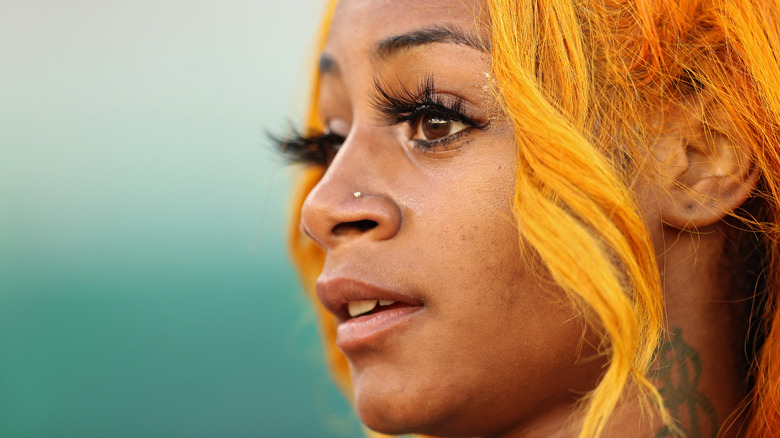 Patrick Smith/Getty Images
Athlete Sha'Carri Richardson recently made headlines for her impressive performance at the U.S. Olympic Trials. The 21-year-old athlete competed for a spot on Team USA in the women's track and field division (via NBC). Richardson won the women's 100m finals with an impressive finish time of 10.86 seconds and earned a place at the 2021 competition.
This accomplishment marked Richardson as a fan-favorite to win the 100m event in Tokyo. However, a month after making Team USA, the Texas native was forced to accept a one-month suspension after testing positive for marijuana (via New York Times). The suspension began on June 28, which gave her enough time to run (and medal) in the 4x100 relay team on August 5, according to EPSN, however, when the Olympic roster was released on July 6, Richardson's name was not on the list. 
While the track sensation wasn't able to make the trek to Tokyo and make a play for the gold, she did shine on the set of Kanye West's latest advertisement (via New York Post). The star runner partnered with the rapper to announce something big for hip hop fans.
Sha'Cari and Kanye team up with Beats to make a major announcement
On July 20, Sha'Carri Richardson appeared in a commercial that aired during Game 6 of the NBA finals (via New York Post). 
The commercial confirmed that Kanye West's highly anticipated 10 album is on the way and is slated to drop on July 23. The milestone record is titled "Donda" in honor of West's late mother and will serve as a follow-up to his gospel album "Jesus is King." In the one-minute commercial Richardson is seen running a 100-meter sprint in slow motion while listening to a sample of West's new album.
The video closes with the tagline "Live Your Truth" and is reminiscent of when Richardson tweeted "I am human" after her suspension from the Olympics was announced. The tweet reached over 500,000 likes (as of writing) and Richardson has received an outpour of support from fans and many famous figures. Though she was unable to represent her country at the 2021 games, it's clear that Richardson will continue to inspire people with her talents and her story.