The Truth About Lizzo And Harry Styles' Friendship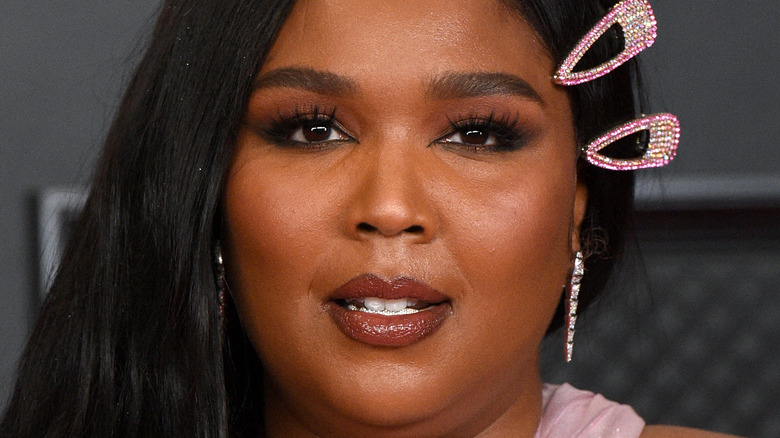 Kevin Mazur/Getty Images
Lizzo and Harry Styles' friendship is the squad that we really wish we could just invite ourselves into. There are duos you can't imagine being apart — peanut butter and jelly, Minnie and Mickey Mouse, Simon and Garfunkle, to name a few — and then there's Lizzo and Harry Styles. Their friendship completely makes sense, as both people are huge proponents of self-love, body positivity, and equality. Not to mention, their respective music absolutely slaps, so it should come as no surprise that they're such good friends. 
Some people, however, might be a bit shocked to find out these two are so close, especially because they haven't officially recorded any music together or shared any joint projects. So how did the two even first meet?
Well, it all started in 2019 when Styles performed a live cover of Lizzo's record-breaking hit "Juice" at the BBC Radio 1 Live Lounge (via Billboard). This combination served as the seed that planted this iconic duo in the minds of fans everywhere. It's a duo we never even knew we wanted but one that makes so much sense now that we have it.
Harry Styles and Lizzo have covered one another's hits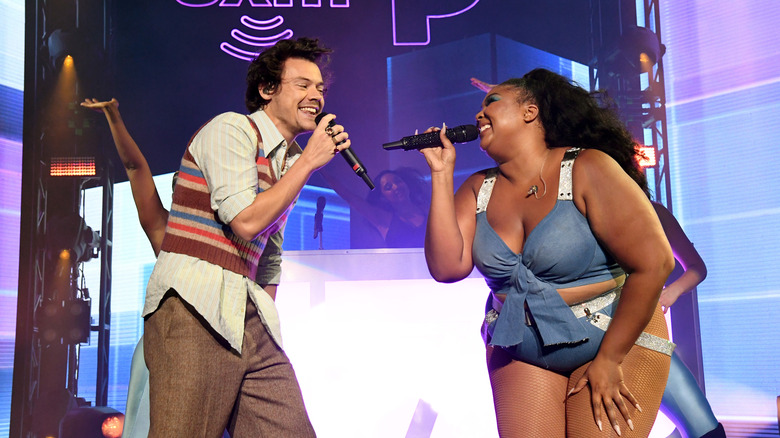 Kevin Mazur/Getty Images
Harry Styles' cover of "Juice" certainly caught Lizzo's attention, and within a few months, the two had gotten together in person to perform the song.
Lizzo's January 2020 performance in Miami Beach at the SiriusXM and Pandora concert had the audience screaming for joy when none other than Harry Styles himself dropped in. The two performed an incredibly high-energy and gleeful cover of "Juice," which had the public talking not only about this perfect melding of artists but also Styles' impressive (and unexpected) dance moves. It's no surprise that Lizzo would kill it on stage with her iconic moves, but it was surprising that Styles could keep up with and accompany her as well as he did (via Rolling Stone). Needless to say, the vibes were immaculate (via Twitter).
Then, just one month later, the roles reversed and Lizzo covered one of Styles' hits. She made her way to the BBC 1 studio to perform the rendition, seemingly following in Styles' footsteps. She also decidedly reciprocated his love of covering music by performing "Adore You," which was, of course, incredible (via L'Officiel). Despite these two singers' music styles being relatively different, their abilities to flawlessly cover one another's music really goes to show their respective range and talent as individual artists.
They were all about the PDA at the Brit Awards
Then came the 2020 Brit Awards, where besties Lizzo and Harry Styles sat near one another and interacted all night. Their adorable PDA — which included a friendly kiss, hand-holding, and even cuddling, per Capital FM — made us love their friendship even more. Due to the COVID-19 pandemic, we didn't see any more interactions between the two throughout the rest of the year, but we're assuming they stayed in touch via FaceTime.
The friends reunited at last at the 2021 Grammy Awards. They both looked absolutely incredible and took the chance to take tons of photos together. It was a memorable night, not only because of the sweet reunion but also because Styles won his first-ever Grammy for best pop solo performance for his hit "Watermelon Sugar" (via People). Lizzo couldn't help but share her excitement for her BFF, posting "HARRY WON A GRAMMY !!!!" to Instagram.
We're obsessed with this duo and can't wait to see them hanging out more in the future. We're hoping they even release some music together!