Clint Harp Dishes On His Journey With Chip And Joanna Gaines - Exclusive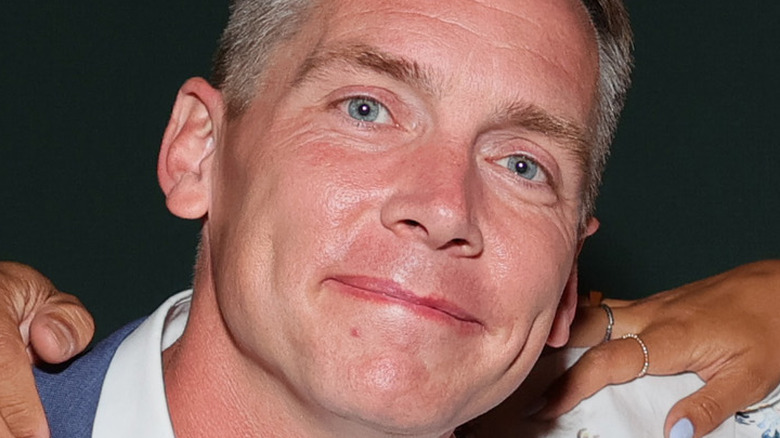 Mike Coppola/Getty Images
The arrival of the Magnolia Network has come with a slew of new programming, but sometimes it's the old episodes that bring us full circle. For those who have sprung to discovery+ to catch a glimpse of Chip and Joanna Gaines in all their glory, those same viewers have come to realize that the original episodes of "Fixer Upper" are on the streaming service, too. If you're anything like us, you can't help but go back and watch where the couple's journey began, and the one person who has been with them since the start is carpenter Clint Harp.
Every home that Jo designed during the original days of "Fixer Upper" seemed to be touched by magic, but some of the statement pieces that really brought each project to life were made by Harp. A local craftsman with an amazing eye for detail, Harp's projects extended from turning candlesticks to making 12-foot-long tables and pretty much everything in between. His kind demeanor and "let's get after it" attitude made him a fan favorite, and with the arrival of the Magnolia Network, Harp has been brought back to the screen in a big way. Departing from his typical role as a carpenter, Harp's new show "Restoration Road" follows him across the country as he sets out to repair historic buildings. For fans of "Fixer Upper" and Harp's distinct style, "Restoration Road" is a welcomed treat. But what has it been like for Harp to grow with Chip and Jo, and watch as their careers and time on screen has intertwined? In an exclusive sit down with The List, Harp dished on his journey with the famous couple.
Clint Harp reminisced about his early days with Chip and Joanna Gaines
Any avid fan of "Fixer Upper" knows that when it comes to tables, kitchen islands, wood detailing, and more, Clint Harp is the guy to call. He was involved with the original HGTV show from its very beginning, before Chip and Joanna Gaines were Chip and Joanna Gaines, and growing together was an aspect of his relationship with them that Harp looked back on fondly. The carpenter turned traveler and restorer told The List that there was a moment where he realized just how much his life could change thanks to the work on "Fixer Upper," and we'll leave it to his words to describe the heartwarming instance. 
"I can remember the days of sitting in my shop and Chip and Jo came over one day. Kelly was there with me, and they had their kids, and we had our kids, and I think Chip picked up some sandwiches from our local sandwich shop here that we all love, Schmaltz's, and we were sitting there in my shop," Hart shared. "In the back, the garage door was open, and we were just looking out to the back of my shop and this grassy field ... We were just quiet. The kids were playing and eating and whatever and the four of us were just sort of sitting there, and it was kind of like, 'Okay, I guess we're all going for it here.'" 
It's often in the moments of stillness that we realize just how impactful the next chapter of our lives can be, and that was certainly the case for Harp. At that moment in time, he had recently quit his job, his wife was in graduate school, and he was uncertain as to what the future held. But it couldn't be more clear now that things were all going to work out for television's favorite carpenter.
Clint Harp shared how 'grateful' he is for Chip and Joanna Gaines
There are some people that have a dramatic, awe-inspiring impact on our lives, and that is certainly the case for Clint Harp when it comes to Chip and Joanna Gaines. In his sit down with The List, Harp shared that while he never thought a career in television would be in his future, he is so appreciative that the opportunities presented to him came to fruition. Talking about how "Fixer Upper" just "[blew] up," Harp recalled how fortunate he felt to know Chip and Jo before their fame grew to what we know it as today. 
"To be a part of this journey with them all the way back to those days is so super special because so many people will just get introduced to Chip and Jo or to me when they already have a network," Harp shared. "The reality is, is that we're just people who all of us were just trying to go for a dream and do things that we love." Harp went on to say that in the early days of "Fixer Upper," Jo "didn't have to keep calling" him, she didn't have to choose him to be a part of their journey on screen, but she did. 
That consistent business relationship is something that Harp is uniquely attached to, and he shared with The List that he is so appreciative of the opportunities that have come his way. "It means the world, and I'll always be grateful, and I'll always just work as hard as I can to make ['Restoration Road'] and all the projects that I'm a part of with them as best as they can be," he said.
Magnolia Network's slate of original programming launched July 15 on discovery+ and inside the Magnolia app.