Why Donald Trump Jr.'s Comments About Joe Biden's Town Hall Are Raising Eyebrows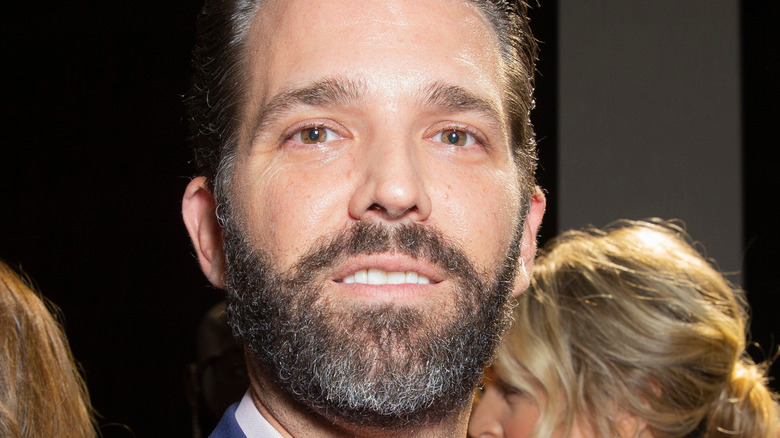 Shutterstock
On July 21, President Joe Biden hosted a CNN town hall event in Ohio to take a few questions from the general public and address many issues our country is currently facing including threats to voting rights, the state of the economy, and the ongoing coronavirus pandemic (via CNN).
Although the content of the town hall provided a much-needed update on the status of the January 6 insurrection investigation, his stance on DACA, and more, many critics have decided to focus on the attendance rate of the event (via New York Post).
White House reporter Jennifer Epstein tweeted a photo of the CNN town hall, revealing that dozens of rows were left empty. A few other reporters covering the event, also took to social media to share videos of the event and showcase that only a small group of people attended the event in person. In response to this revelation, CNN spokesperson Lauren Pratapas explained, "This was a typical audience size for a CNN town hall." She did not elaborate on the reason for the small crowd size." However, the criticism just kept pouring in.
Trump Jr.'s call for criticism of Biden backfired
Donald Trump Jr. took to Twitter to share an image of the half-empty auditorium at President Joe Biden's CNN Town Hall. He captioned the post, "The most popular president in American history can't fill a small auditorium. Discuss." Though Trump Jr. was most likely hoping for his followers to speak negatively about Biden, the responses were rather critical of Trump Jr. instead. 
Many people were quick to point out that the president kept the event's guest list low because of the ongoing coronavirus pandemic. One Twitter user wrote, "I dunno. Maybe caution? Nice take though." While another simply added, "Don't have to fill. Still a pandemic,'" (via Twitter).
Another Twitter user pointed out that the event was invitation-only and noted that, "People who like Joe Biden don't act as if they are in a cult." This sentiment also reverberated throughout Trump Jr.'s comment section, as many people, stated that popularity doesn't equate to crowd size. An additional user even quipped, "Maybe the current administration isn't hiring actors to attend events, Junior."