Why Sarah Huckabee Sanders' Election Promise Has Twitter Fuming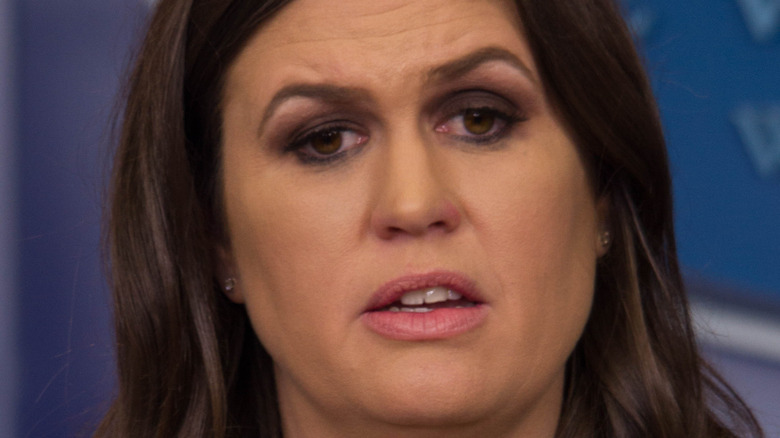 Shutterstock
Sarah Huckabee Sanders — one of Donald Trump's former White House press secretaries — announced in January 2021 her intention to run for the governor of Arkansas (via NPR). At the time, the daughter of two-term Arkansas Gov. Mike Huckabee explained that she intends to stand by law enforcement officers, prohibit sanctuary cities, fight for the working poor, and more. 
Since announcing her bid for governor, the Republican has raised $9 million and has become a strong candidate for the GOP nomination (via National Review). However, recent comments she made during an appearance on Fox News may slow her momentum (via Raw Story). 
Sarah said, "If I'm elected governor here in Arkansas, we will not have mask mandates, we will not have mandates on the vaccine, we will not shut down churches and schools and other large gatherings because we believe in personal freedom and responsibility." 
The former press secretary neglected to explain how she would combat the coronavirus pandemic, despite Arkansas' position as one of the states with the lowest vaccination rate.
Sanders has a scary stance of COVID-19 mandates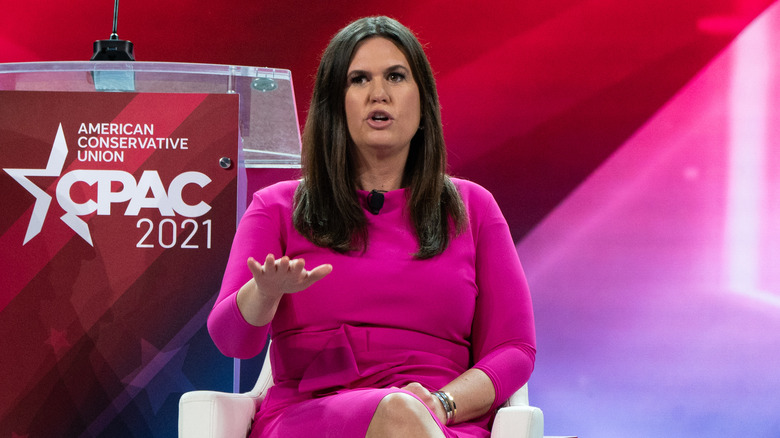 Bloomberg/Getty Images
Upon hearing Sarah Huckabee Sanders' comments regarding mask mandates and the COVID-19 vaccine, people took to Twitter to share their concerns. 
Many people were quick to note that the coronavirus is killing many people at alarming rates and that Sanders' refusal to comply with the recommended pandemic protocols is harmful. One Twitter user wrote, "Sarah Huckabee Sanders vowed that she will take zero precautions for Covid if elected Governor of Arkansas. Effectively saying she will give zero f**ks if she kills the people that voted for her!"
Another user noted Sanders' refusal to do "the bare minimum" for slowing the spread of the virus and joked that the gubernatorial candidate appears to be attempting to "wipe Arkansas off the map." Many other Twitter users are simply enraged with Sanders' comments and believe the state of Arkansas deserves a better governor. One Arkansas local tweeted, "Well now i have to stay an AR resident long enough to vote against sarah huckabee sanders."