LeVar Burton's Surprising Reaction To Being A Guest Host Of Jeopardy!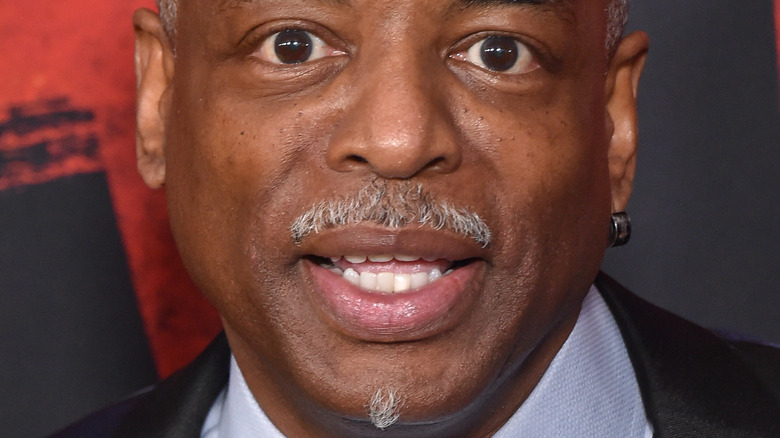 Shutterstock
"What is 'it's about time'?" That's what "Jeopardy!" fans are saying about the upcoming appearance of LeVar Burton, who will be the guest host from July 26-30. He's the latest in a series of celebrities who have stood behind the podium this season while producers mull over a permanent successor to Alex Trebek. While some of the celebs have been strong contenders — What to Watch cites Dr. Sanjay Gupta, Robin Roberts, and Mayim Bialik — devotees have clamored from the start to have Burton added to the list. Finally, after an online petition drew some 250,000 signatures, producers signed the actor on (via Forbes).
Burton has a long-standing rep as not only a fantastic actor ("Roots" and "Star Trek: The Next Generation"), but also as an advocate for education and literacy. He brought a love of books to generations of kids as host of PBS's "Reading Rainbow." Plus, he was a past guest on "Celebrity Jeopardy!" and he's still rightly proud of his win. He recently told Esquire that he's wanted to be the show's host as far back as 2013. "Everything that I'm about is in the same vein as 'Jeopardy!,'" he said. "The idea of education being a value or a principle, and that education should be available to everyone. ... 'Jeopardy!' is a bright spot in the nation's consciousness."
So what was it like to see his hosting dream come true? "Scary," Burton told The Associated Press. "Really, really, really scary. Did I mention it was scary?"
LeVar Burton had to conquer his first-day jitters
The actor went on to explain to the AP that of all the daunting challenges he's taken on — this includes skydiving and coal-walking, mind you — hosting "Jeopardy!" was the topper. The pressure of following in Trebek's footsteps left Burton with a case of nerves that affected his performance at first. Burton recalled, "I came backstage after taping the first episode and I said to [his wife and makeup artist] Stephanie, 'Well, how did I do?' She said, 'ehhh.'"
Fortunately, Burton was able to relax and focus on having fun during the four episodes that followed. Still, he added, "You can't drop your focus for a nanosecond" during the fast-paced game.
Now his hope is that he did well enough to become the permanent host. He told Esquire, "I feel like I'm right for this job. If I don't get it, I'll be fine. My life will go on. I am enormously happy and content with who I am and what I do and how I do it. I don't expect that to change whether I get the 'Jeopardy!' job or not." He added that simply being a Black guest host on the show is "a milestone marker on this journey toward wholeness that the great American experiment is supposed to be about."
Fans will also be rooting for the contestants to win big: Their total earnings will be matched by "Jeopardy!" and donated to Burton's favorite charity, Reading Is Fundamental.