Meet Anika Poitier, Sidney Poitier's Daughter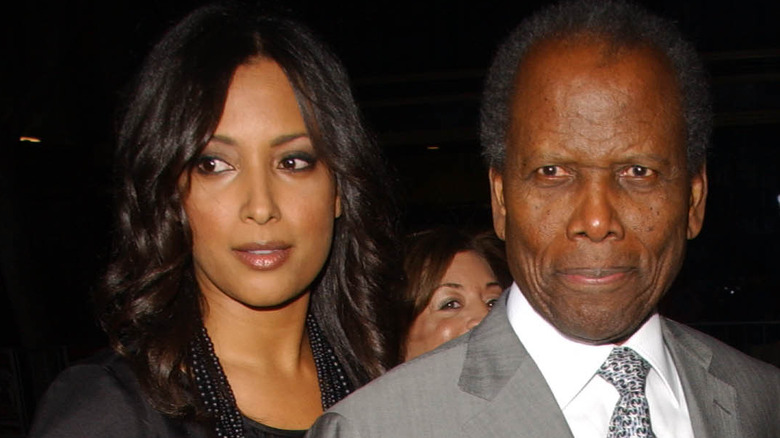 Shutterstock
Sidney Poitier is a legendary actor. According to Biography, he had a troubled youth, but after joining the United States Army, he set his sights on becoming a successful actor. He certainly accomplished that dream. Pointier would pave the way for future Black actors, becoming the first actor of color to win an Academy Award for Best Actors for his role in "Lillies of the Field." He would continue to have a successful career in film and on the stage.
Poitier has been married twice. His first marriage was to Jaunita Hardy, who he shared four children with. He remarried following his divorce from Hardy. He shares two children with his current wife, Joanna Shimkus. One of those children is his daughter Anika Poitier, who has followed in her famous father's footsteps. According to IMDb, Anika Poitier is an actress, writer, and director who has lived an interesting life.
She is involved in the film industry like her dad
According to her bio on Huffington Post, where she is a contributor, Anika Poitier has had a love for the arts since she was a child. She grew up in a home full of actors and actresses and often would put on her own performances for her parent's star-studded party guests. She grew up in Los Angeles but moved to New York City when she was 18. She attended several schools including Sarah Lawrence College, The American University of Paris, and The American Film Institute.
Like her father, she wanted to pursue acting. She made her acting debut in the 2001 film "Swordfish" starring John Travolta and Halle Barry. She took on a bigger role in the film industry in 2004 with "The Devil Cats." This is a film she wrote, directed, and starred in herself. The film is a mockumentary about an all-girl rock band (via IMDb). While it didn't experience much commercial success, it is a fun and campy film fans enjoy.
While she keeps her personal life on the down-low, what is obvious is she has a wonderful relationship with her famous father. She is also married and has children of her own. It is clear the Piotier family enjoy spending quality time together, as you can see in this sweet Father's Day video from The Hollywood Reporter.