The Real Reason Johnny Depp And Kate Moss Broke Up
Shutterstock
After his iconic relationship with Winona Ryder, Johnny Depp dated British model Kate Moss for three years. The couple became one of the '90s most recognisable relationships in Hollywood, with many hoping that the two would eventually marry and start a family. But in 1997, the two parted ways. Depp would go on to marry French actress and singer Vanessa Paradis and have two children (via the Evening Standard), while Moss went on to date Dazed & Confused editor Jefferson Hack (via Vogue), who she had a daughter with.
Depp and Moss met in 1994, after being introduced to each other by Vanity Fair columnist George Wayne (via Paper) at the Cafe Tabac in New York City (via The Face). "Johnny was in the back having dinner and Kate walked in with Naomi and [Wayne] grabbed her and made the introduction," his official Instagram captioned a post in 2019, adding that the pair became known to destroy "hotel rooms across the globe during their still unforgettable union."
During their four years together, the couple were constantly making headlines for their PDA — especially in the first year of their romance. "They can't keep their hands, lips, mouths, legs off each other," a friend of Depp's told People.
Johnny says he was responsible for the breakup of their relationship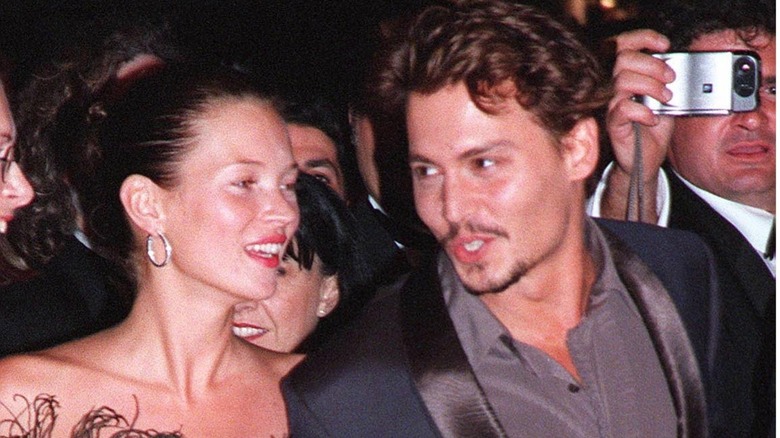 Shutterstock
But that came to an end in 1997, and a year later Jonny Depp detailed the exact reason behind their split. "I'm so stupid because we had so much going for our relationship," he told Hello! magazine (via the Johnny Depp Zone), acknowledging that he was responsible for the breakdown of their relationship. "I was difficult to get on with, I let my work get in the way and I didn't give her the attention I should have done."
He went onto explain that he should have never have "got so worked up" over what others said about his work. "Sure, I should care about my movies, but when I get home I should try to leave that stuff behind," he said. "I couldn't do that and I was horrific to live with. Trust me, I'm a total moron at times."
Depp went onto explain that what they had was "so pure", which would explain the emotional breakup. The actor said he'd "never got that emotional over a woman before," while Moss told Vanity Fair in 2012 that Depp was one of the only people to be able to take care of her. "And that's what I missed when I left," Kate Moss continued. "I really lost that gauge of somebody I could trust. Nightmare. Years and years of crying. Oh the tears!"