Dallas Cowboys Cheerleaders: Making The Team Season 16 Release Date And Cast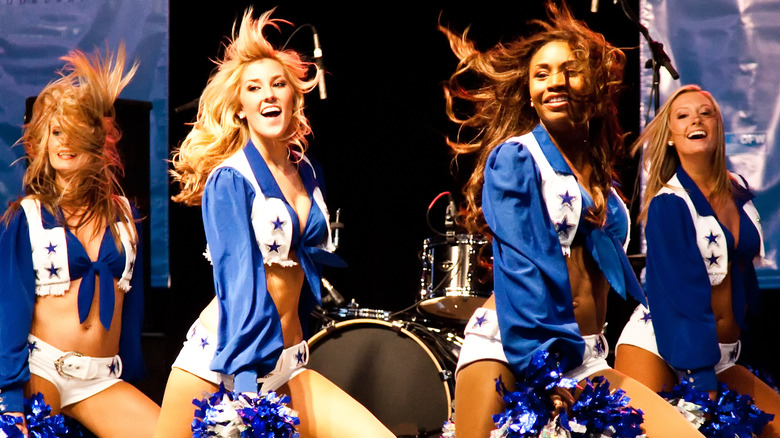 Shutterstock
"Dallas Cowboys Cheerleaders: Making the Team" is about to kick off its 16th season on CMT this fall, which is an impressive feat for any kind of reality television show. The show debuted back in 2006, and is actually the longest-running series for CMT ever, according to Deadline.
Filming for the show began earlier this summer, when 52 would-be Cowboys cheerleaders traveled to Texas to compete in what is possibly the most intense cheerleading training camp in the United States. The team will ultimately be whittled down to 36 squad members who will perform for the team in the upcoming NFL season.
The show is directed by former Cowboys cheerleader Kelli Finnglass and choreographed by fellow former cheerleader Judy Trammell, per Fox News. Both women, who are coaches for the team during the NFL season, are definitely putting their all into the upcoming season, which is the second to be filmed in a "bubble" due to the ongoing global pandemic. Last year's season was intense, and more veteran cheerleaders were cut from the team than ever before.
Here's the release date for season 16 of Dallas Cowboys Cheerleaders: Making the Team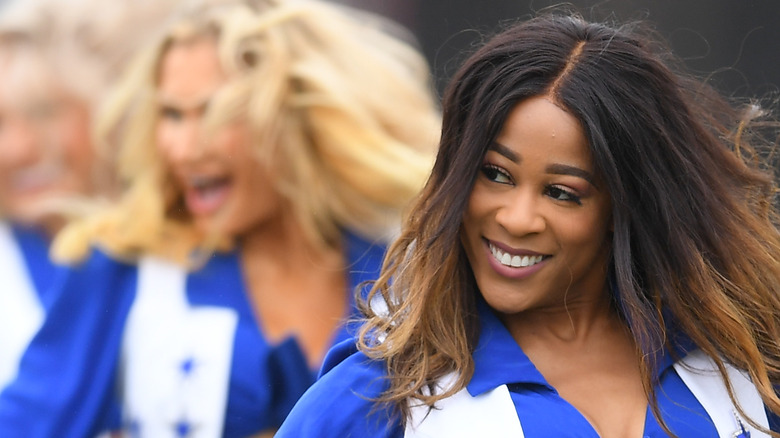 Jayne Kamin-oncea/Getty Images
If you've been eagerly awaiting the upcoming season of "Dallas Cowboys Cheerleaders: Making the Team," you really don't have to wait much longer. Season 16 will premiere on CMT on Friday, September 17, 2021. 
CMT released a press release about the upcoming season, noting that it will truly be a unique experience. This time around, the competition is stiffer than its ever been before. As the release notes, "With more auditions and contestants than ever before, the competition is stiff and the pressure remains at an all-time high as the candidates work to perfect new technically-challenging routines to impress longtime coaches Kelli Finglass (Director of Cheerleading) and Judy Trammell (DCC Head Choreographer) to earn an esteemed spot on the field."
Even though the process can be intense, the cheerleaders are truly in the best hands with Finglass and Trammell. As Finglass told Amstar, she knows exactly what they are going through. "Well, it's a whirlwind. It's a very busy lifestyle; a fabulous collection of friends and dancers and athletes. For performers it's really a dream come true to be able to perform and dance, and then you mix that with the NFL and it's an amazing experience. The best part is probably the close friendships that develop through the camaraderie of the travels and the locker room."
Who will be on season 16 of Dallas Cowboys Cheerleaders: Making the Team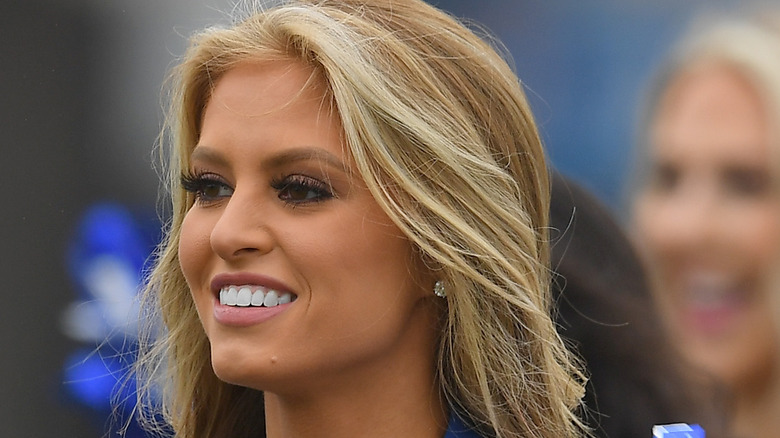 Jayne Kamin-oncea/Getty Images
Obviously, both coaches will be returning to season 16 of "Dallas Cowboys Cheerleaders: Making the Team." Additionally, there are quite a few familiar faces that fans can expect to see, as several cheerleaders from the 2020-2021 team will be coming back. As Parade has shared, that list includes: Jessica Bowman, Elli DiGiovanni, Chandi Dayle, Kristin Dodd, Ashlee Ford, Marissa Garrison, Taylor Johnson, Darian Lassiter, Armani Latimer, Gina Ligi, Dani McGinnis, Jada McLean, Amber McMillan, Lisa Mills, Madeline Molloy, Alora-Rose Morgan, Kat Puryear, Erin Sauerhage, McKenzie Sherman, Jalyn Stough, Lexie Sullivan, Caroline Sundvold, Kelcey Wetterberg, Claire Wolford, and Rachel Wyatt.
As for new faces ... so far, the list hasn't been released at all, nor are there many hints on social media about who else will be joining the returning squad members. No matter who is or isn't on the list, one thing is for sure: the women who audition for these spots truly bring a lot to the table. 
Kelli Finglass explained that one of the biggest misconceptions people have about the team is that the women are shallow or unimpressive. "I think a lot of times the people don't realize that the cheerleaders have careers and have impressive educations. All of our cheerleaders have their bachelor's degrees and 10 have their master's degree, while some are still enrolled at various universities. Last year we had a cheerleader with her doctorate" (via Amstar).