The Truth About Cara Delevingne And Rihanna's Friendship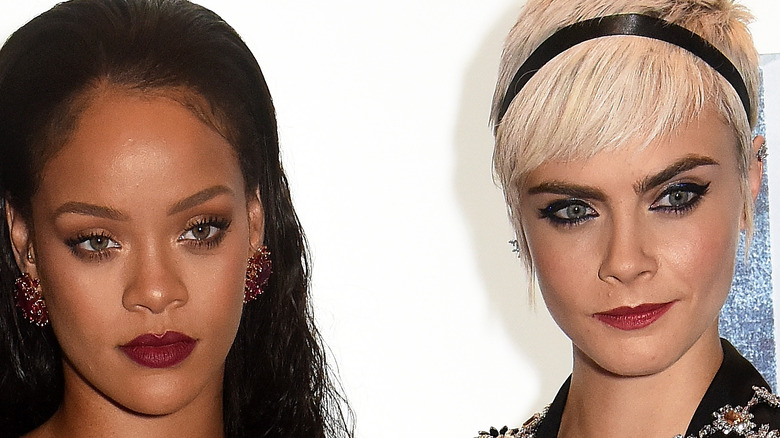 Dave J Hogan/Getty Images
Supermodel Cara Delevingne's inner circle is a veritable coterie of who's-who. Among her close pals are fellow models Suki Waterhouse and Kendall Jenner, as well as Taylor Swift, Ellie Goulding, and Selena Gomez (via Travel and Leisure, Us Weekly). Given the circles Delevingne runs in – as well as her general no f**ks given attitude, it's perhaps not surprising that Delevingne also counts the ultimate bad girl among her close friends – superstar and entrepreneur Rihanna (via Lady First).
The pair first met at a fashion show and would later even go on to co-star in the Luc Besson film "Valerian and the City of a Thousand Planets." Of the experience, Delevingne said, "I've seen her work in the studio, in concert, in meetings. But to see her act was incredible" (via Glamour).
Rihana and Delevingne's friendship meet cute maybe went down exactly how you'd expect – with Delevingne walking up to Rihanna and playfully tapping her on the rear.
"We get silly with each other. The first time we met was because she came up to me and slapped me on the bum ... It's portrayed like we are just party buddies but there is much more to our friendship," Rihanna shared. "We have busy schedules but no matter where either of us are in the world, we know we can just pick up the phone and unload on each other, and that we are always ready to listen or offer advice ... She is very special to me."
Cara and Rihanna are each other's strong support system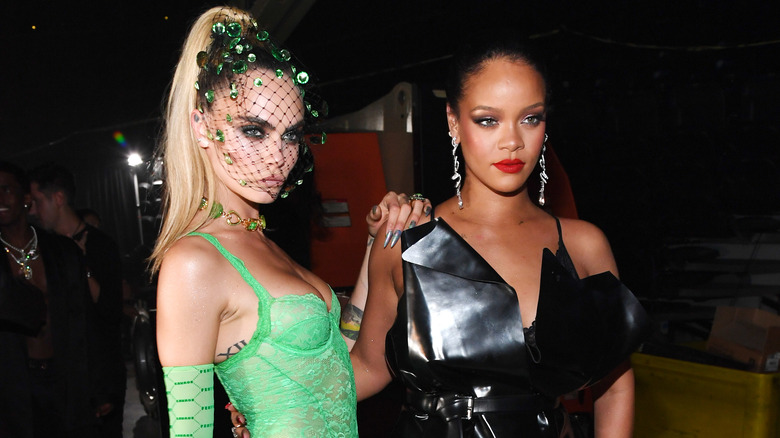 Kevin Mazur/Getty Images
While their friendship is certainly more than partying, Rihanna and Cara Delevingne clearly know how to have a good time together. In honor of Rihanna's 30th birthday, Delevingne posted to Instagram a collage of the pair having a good time, writing, "Happy belated birthday Robyn you dirty 30 year old!!!! Time has flown by since we first met and wow has it been a wonderful rollercoaster. Cheers to all the mind blowing memories and all the ones to come. Love and miss you always xxx."
And it's not the first time the two made headlines for their friendship: A year earlier, Delevingne poked fun at herself when she was seen staring at Rihanna's breasts on the red carpet, re-graming a post captioned, "Cara is all of us" (via Glamour). However, Delevingne would later clarify on "The Graham Norton Show" that Rihanna had said to her earlier in the evening, "You've got to be on boob watch." Naturally, Delevingne was just complying, as any good friend would.
The pair is there for each other not just personally but professionally as well, with Delevingne walking the runway at Rihanna's 2020 Savage x Fenty show. "Rihanna has always been so lovely and such a good friend. I am in awe of her and just so proud," Delevingne said.
Clearly, Delevingne can stand under Rihanna's umbrella – and she considers herself lucky to do so.