Here's What iCarly's Gibby Looks Like Today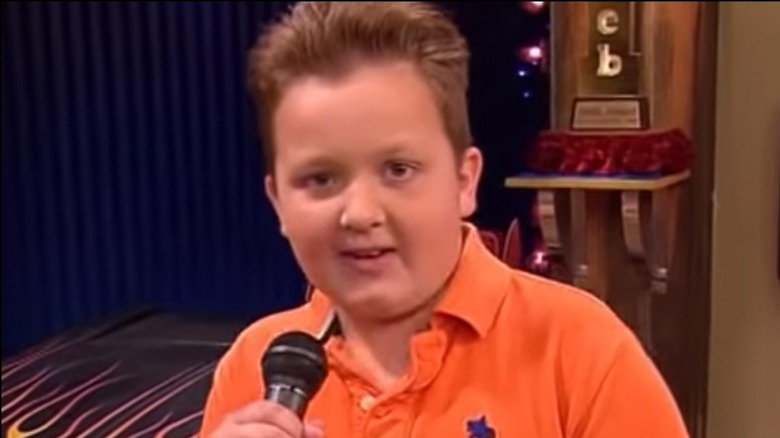 Nickelodeon
In many ways, Gibby was the shirtless beating heart of Nickelodeon's tween phenomenon "iCarly." Originally appearing in Season 1, Episode 3, "iDream of Dance" (via IMDb), Gibby gradually became a recurring character — not to mention a fan favorite — as the kooky high-schooler continued to pop up both on the show and the titular web-show-within-a-show, always game for a laugh. His shtick initially revolved around Gibby taking his shirt off at inopportune moments, but he later became a key part of the gang. 
Actor Noah Munck's committed portrayal of the sweet-natured weirdo, who counted a young lady played by supermodel Emily Ratajkowski as his onscreen girlfriend at one point (per IMDb), had a lot to do with how popular Gibby became. And, indeed, Gibby's absence from the "iCarly" reboot is glaring. In fact, Munck was so popular that his own brother, Ethan, played Gibby's brother, Guppy. In the years since, of course, the beloved actor has shed the skin of his most famous character to emerge as a fascinating star in his own right. 
Noah Munck is the furthest thing from the shirtless wonder nowadays
In the years following the untimely demise of "iCarly," actor Noah Munck has taken a step back from the public eye, with little social media presence to speak of aside from a Facebook page that hasn't been updated in a while, at the time of this writing. He's stayed suitably busy, however, with a recurring role in the hit sitcom "The Goldbergs," starting in 2014, alongside bit parts in movies, including "Shrek Retold," "Vikes," and "Just Before I Go" (via IMDb). 
During an appearance on the "OYC" podcast, Munck admitted to having a difficult relationship with the character Gibby because he tended to be the butt of the joke on the show (via YouTube). "Maybe one day I'll have a better relationship with it, and who knows, I'll come back," he said of reprising the role at a later stage. 
Elsewhere, the "iCarly" alum releases music under the moniker "sadworld," with his YouTube channel noting that Munck handles the "editing, FX, and beats" for each video. Of the passion project, the actor told Polygon: "Everything I'm doing now feels more like it's coming from a real place than just trying to do something just because I wasn't doing anything." 
Acting remains a love of his, however, with the talented performer informing The Biola University Chimes back in 2014 that he continues to regularly audition and chase roles.