How Julia Stiles Really Feels About Matt Damon
Jeff Spicer/Getty Images
Actress Julia Stiles has enjoyed an incredibly varied and challenging career since her breakout in the beloved 1999 teen movie "10 Things I Hate About You." Stiles has made her mark on everything from rom-coms ("Down to You") to other modern Shakespeare adaptations ("Hamlet," "O") and even TV drama ("Dexter," "Riviera"), per IMDb. Although it's nigh on impossible to predict what Stiles is going to tackle next, entering the "Bourne" franchise was a major swerve for her. 
The actress popped up as agent Nicky in the 2002 trilogy-starter, "The Bourne Identity," and has appeared in each subsequent film aside from the spinoff "The Bourne Legacy," in which Jeremy Renner took over from stalwart Bourne Matt Damon. Shockingly, as Stiles told Collider, Nicky was supposed to be killed off in the first movie. At the time, the filmmakers weren't sure whether it was going to spawn a franchise. Naturally, the "Riviera" star enthusiastically signed on for every follow-up installment. 
As it turns out, one of the biggest selling points for Stiles was co-star Damon, with whom she shared a lovely rapport. 
Julia Stiles is hugely impressed by her 'Bourne' co-star Matt Damon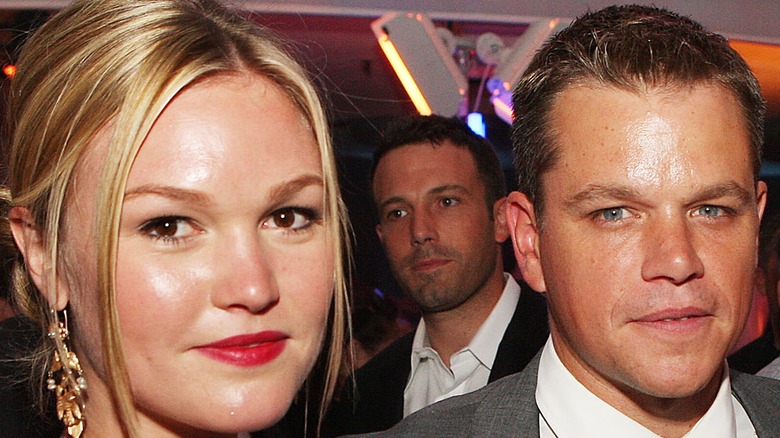 Kevin Winter/Getty Images
When Julia Stiles showed up at the shoot of "Jason Bourne," it had been nearly a decade since the release of the previous film, "The Bourne Ultimatum" (via IMDb). Thankfully, returning to set was like slipping back into a comfortable pair of sweatpants, as Stiles enthused during an interview on "Today." "It was a really nice reunion," she said, because she loves working with director Paul Greengrass and star Matt Damon. "Everybody was really excited to be working together again." Stiles revealed that, because the "Bourne" series involves visiting so many different exotic locations, the cast and crew instantly began reminiscing about all the places they'd been together over the years. 
The "10 Things" breakout star admitted to EW that, when she was first introduced to Damon, it was a quick greeting in the middle of the shoot in France and then straight to work. The two gradually got closer over the years. As for something fans might not know about the beloved actor, Stiles advised that, despite Damon's massive career, he has remained "very humble and hard-working." She added, "Even though he has a lot of people around him, he never seems unreachable." Clearly, working together for 14 years has resulted in a beautiful working relationship.