Simone Biles' Boyfriend Finally Shares His Thoughts About Her Olympic Exit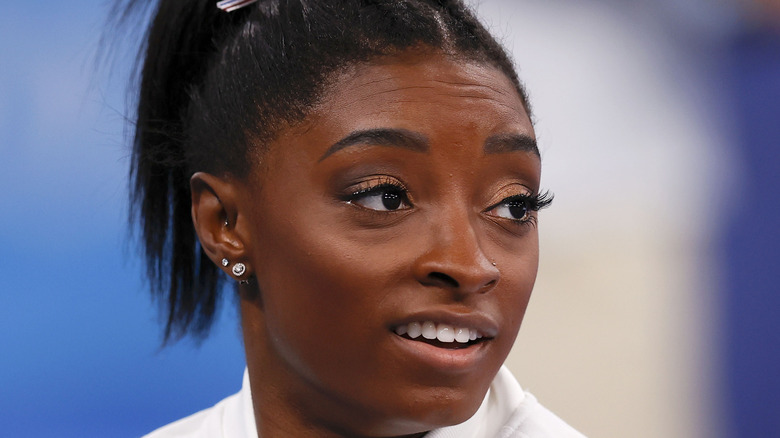 Fred Lee/Getty Images
Simone Biles, the greatest gymnast of all time, stunned people across the world after her sudden exit from the 2020 Tokyo Olympics, citing mental health reasons as the catalyst for her brave decision to put her well-being above a sport that has failed many of its athletes time and time again (via The New York Times). And although many fans, celebs, social media users, and fellow athletes rallied around the 24-year-old four-time gold medalist and supported her decision, Biles has been receiving backlash from people all around the world, especially from people like Piers Morgan, who has a history of criticizing Black women (via TheWrap) and probably can't even touch his own toes.
"Are 'mental health issues' now the go-to excuse for any poor performance in elite sport? What a joke," Morgan tweeted upon hearing about Biles' exit. "Just admit you did badly, made mistakes, and will strive to do better next time. Kids need strong role models not this nonsense."
Of course, the 56-year-old former "Good Morning Britain" host — who quit the show after he was called out by co-host Alex Beresford for discrediting Meghan Markle's admission of having suicidal thoughts (via Forbes) — didn't stop there. "Sorry Simone Biles, but there's nothing heroic or brave about quitting because you're not having 'fun' — you let down your teammates, your fans and your country," Morgan wrote in an op-ed for the Daily Mail, adding, "I preferred the old Simone that would do whatever it took to win."
Simone Biles thanked her fans for supporting her decision to exit the Olympics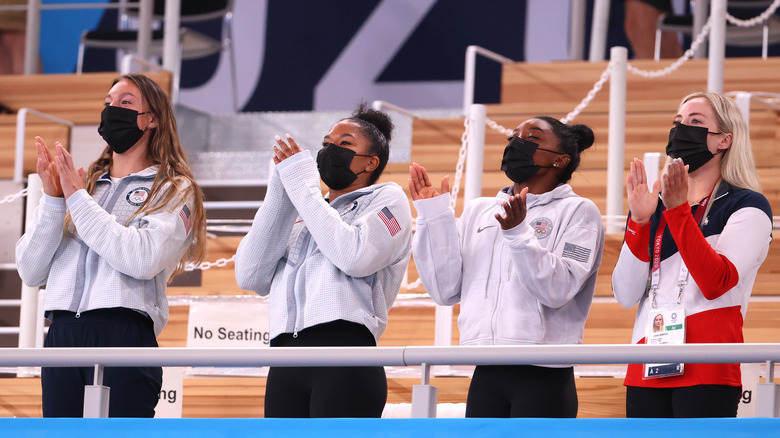 Abbie Parr/Getty Images
Despite receiving unnecessary backlash from some people, on July 28, 2021, Simone Biles took to Twitter to issue a statement of her own to thank her supporters, writing, "The outpouring love & support I've received has made me realize I'm more than my accomplishments and gymnastics which I never truly believed before."
Her tweet garnered over 1.3 million likes at the time of publication, and the Olympian was met with even more words of encouragement from people all over the world. "I'm so sorry it took this long for you to feel this way. [heart] [heart] you are an amazing example and a magnificent human. You are strong, brave and honest. Thank-you for sharing yourself with the world!" one Twitter fan wrote, while another said, "You've helped normalize people taking time out for their mental health, the domino effect of which will help millions across the country. A greater feat, arguably, than a gold medal. Thank you & I wish you nothing but the best."
Biles' teammate, Sunisa Lee, who took home the gold medal in the women's gymnastics all-around Olympic event (via ESPN), also issued words of support to Biles via Twitter, writing, "Never been prouder to be apart [sic] of such an amazing team with an amazing group of girls. We stepped up when we needed to and did this for ourselves. We do not owe anyone a gold medal, we are WINNERS in our hearts." Lee isn't the only person close to Biles who has issued their unwavering support. 
Simone Biles' boyfriend called the Olympian his 'champ'
Simone Biles' boyfriend, Jonathan Owens, took to Instagram to show his ongoing support for his partner, sharing a collection of pictures of the pair alongside a sweet tribute to Biles. "Imma ride with you through whatever baby [heart]," he wrote. "Your strength and courage is unmatched and you inspire me more and more everyday SB [fingers crossed] You always gone be my champ baby and don't you ever forget that, i love you so much and i can't wait till you come home and i get to see that beautiful smile again. You know I'm always here for you baby."
Fans flocked to the comment section of the post to praise Owens for his continued support for Biles, with one Instagram user writing, "Love this so much!! She is a WHOLE person, beautiful on the inside and outside. So much more than gymnastics," while another fan wrote, "So supportive, over here crying I love this so much.. you found a keeper Simone!"
If one thing is clear, it's that Biles has shown a strength that is even more inspiring than any medal win.