Here's How Many Grandchildren Harrison Ford Has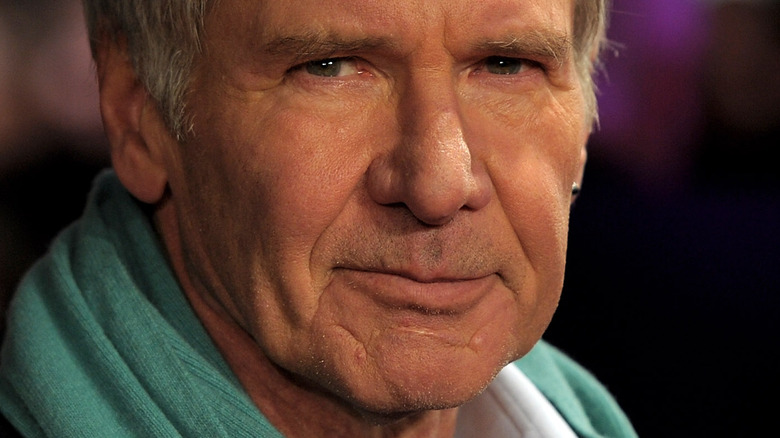 Ian Gavan/Getty Images
Harrison Ford has been thrilling movie audiences for generations. He became a household name when he brought to life space pirate Han Solo in the original "Star Wars" film in 1977, and then became more of an adventure hero in 1981's "Raiders of the Lost Ark." He would go on to star in three subsequent Indiana Jones sequels in 1984, 1989, and 2008, and of course, he reprised his role of Han Solo in "The Empire Strikes Back" in 1980 and "Return of the Jedi" in 1983. He then returned once more in "The Force Awakens" in 2015 (via IMDb).
In "The Force Awakens," we learned that Han Solo became a family man himself, as his son is revealed to be Ben (Kylo Ren), but little is known about Ford's own family. The private actor doesn't always speak about his kids, but at 78 years old as of this writing, Ford is a dad five times over and a granddad four times over.
Ford was born on July 13, 1942, and was barely in his 20s when he married his college girlfriend, Mary Marquardt. The pair stayed married until 1979 and the union produced two sons. In 1983, he wed actor Melissa Mathison who he met on the set of "Apocalypse Now" the year his first marriage crumbled. That marriage produced two more children but the couple separated in 2001 before finally divorcing in 2004. Before his divorce was final, Ford became romantically involved with "Ally McBeal" star Calista Flockhart. They wed in 2010 and have one son together (via Biography).
Meet Harrison Ford's children and grandchildren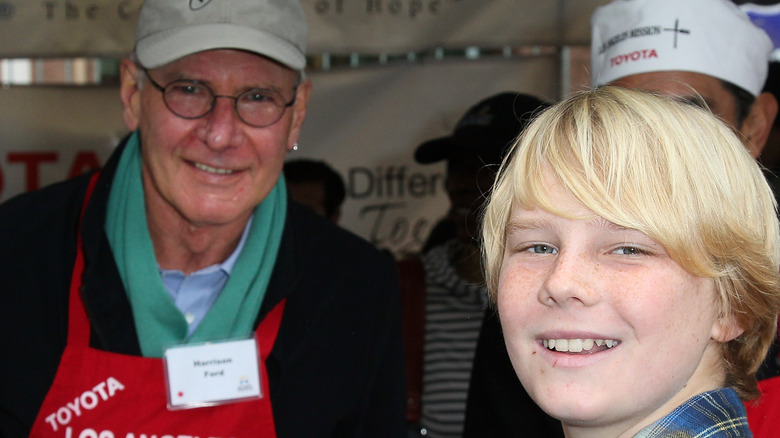 David Livingston/Getty Images
Harrison Ford's oldest son, Ben, was born in 1967 and is both a chef and an author, having written the book "Taming of the Feast," which offers detailed menu guides. Ben gave Ford two grandsons, Waylon and Ethan, according to Closer Weekly.
Ford and first wife Mary became parents to a second son in 1969, whom they named Willard. He also did not follow in his famous dad's footsteps and rather than becoming an actor, he became an entrepreneur and owns The Ludwig Clothing Company. Sadly, the gym he owned, Strong Sports Gym, hit hard times during the COVID-19 pandemic and was forced to shut down for good (via Closer Weekly). Willard gave his dad two more grandchildren in Guiliana and Eliel.
Ford's three other children with his second and third wives haven't produced any more grandchildren for the beloved actor as of this writing, but that doesn't mean they won't one day.
Meet Harrison's Ford's three other adult kids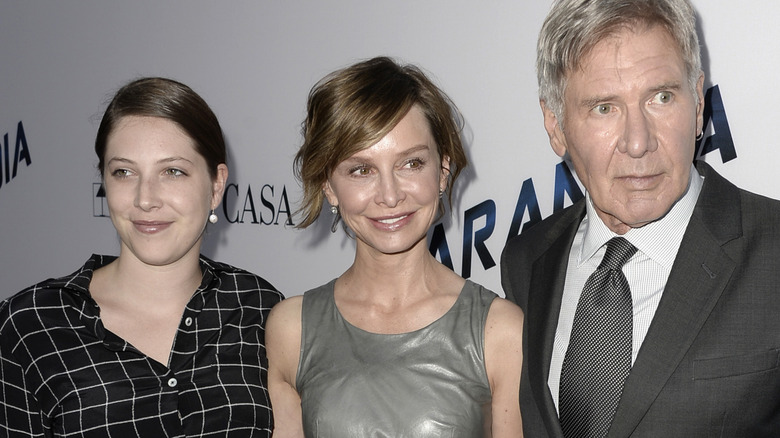 Kevin Winter/Getty Images
Harrison Ford's nearly-two-decade long marriage to Melissa Mathison gave the actor another son and his first daughter. Malcolm Ford was born in 1987 and is a performer like his dad;  he appeared in the 2004 movie "Wine and Water," according to Closer Weekly. He's also a member of a rock band called The Dough Rollers, which have toured with such famed acts as Bob Dylan, Billy Idol, and John Mellencamp, as reported by Showbiz Cheat Sheet.
Ford finally became dad to a girl in 1990 when Georgia was born. Although she has acted a bit, she also suffers from epilepsy, something Ford spoke about in 2016 when he made a speech for NYU's Langone Medical Center's Find a Cure for Epilepsy and Seizures (FACES). He called Georgia his hero at the event and added: "When you have a loved one who suffers from this disease, it can be devastating. You know how it affects their lives, their future, their opportunities and you want desperately to find mitigation. You want to find a way that they can live a comfortable and effective life" (via the New York Daily News).
Calista Flockhart's adopted son, Liam, came into Ford's life when he was just a baby so Ford considers himself the boy's father, too. Liam is now a student at Amherst College in Massachusetts, according to Closer Weekly. People reported that Ford flew Liam to school in his own private plane in 2020.