Why Donald Trump's Remarks To The DOJ Last December Are Raising Eyebrows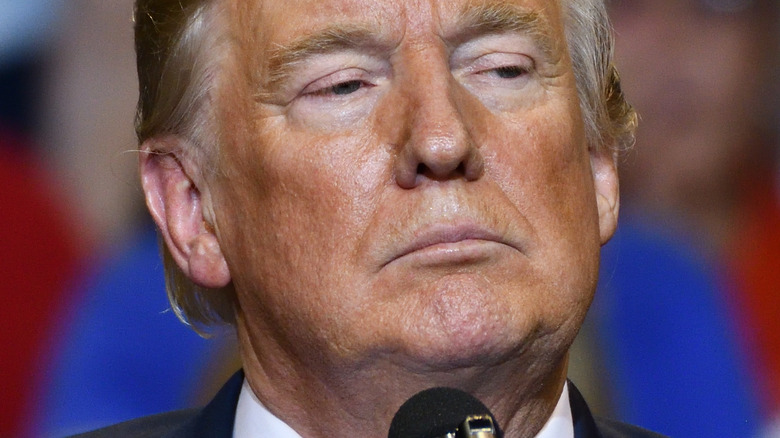 Shutterstock
Here we go again. Donald Trump has stood by his stance that the 2020 presidential election, which he lost, was rigged. It's been several months since Joe Biden has taken office, but Trump will not let that go. At this point, critics have even urged Trump to forget about the election loss for the betterment of the Republic Party, but the former president refuses (via The Hill). Slate even reports that Trump maintaining his focus on 2020 will hurt the GOP's attempts to regain the House in 2022. 
Even the former attorney general under Trump's presidency, William Barr, has taken a break from Trump after his drawn-out voter fraud claims. Barr told The Atlantic that, "If there was evidence of fraud, I had no motive to suppress it. But my suspicion all the way along was that there was nothing there. It was all bulls***." With all investigations, no evidence has been found that there was any voter fraud in the 2020 presidential election, according to The Associated Press.
With members of the GOP growing tired of Trump's relentless and baseless "rigged election" antics, many people are raising their eyebrows at what the former president apparently said last December in a call with the DOJ.
Notes reveal Trump urged the DOJ to claim the 'election was corrupt'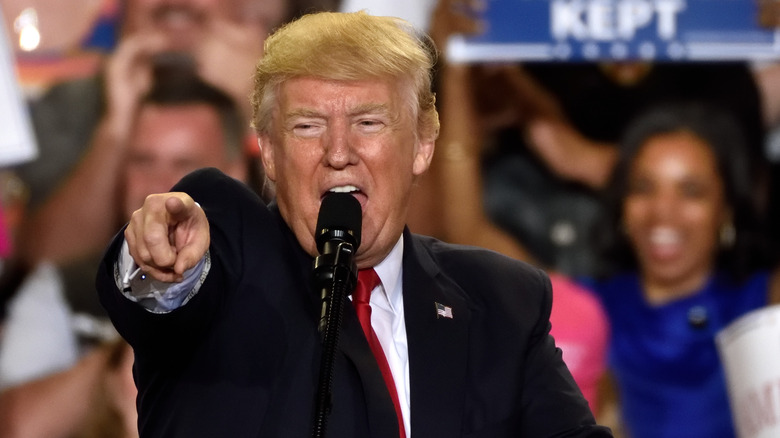 Shutterstock
New documents now show that back in December — before Biden took office and the attack on the Capitol — then-President Donald Trump urged the Department of Justice to make false claims that "the election was corrupt," according to USA Today. In handwritten notes of a conversation between Trump and Acting Attorney General Jeff Rosen, Trump told Rosen to make a public announcement that the "election was corrupt," and that he would take care of the rest, along with Republican allies in Congress. The notes were released to the House Oversight and Reform Committee on Friday, following over 200 pages of emails from Justice Department officials and White House staff, which show that Trump was trying to pressure the DOJ into overturning Biden's win (via The New York Times). 
While this doesn't look good, Trump is not apologizing. He even released an official statement on Saturday, according to The Hill, which tried to point the finger back at the Oversight and Reform Committee. In his statement, Trump claims that "the corrupt and highly partisan House Democrats" are trying to "dishonestly" describe his actions as "attempting to overturn the election." Trump even maintained that the election was "rigged," despite there being no evidence of the fact, and once again called up Congress to investigate the alleged voter fraud.
With these notes coming in, it seems there is more evidence of an attempted "rigged" election on Trump's part than there is to back his claims of voter fraud.