Why David Harbour Is So Worried About Millie Bobby Brown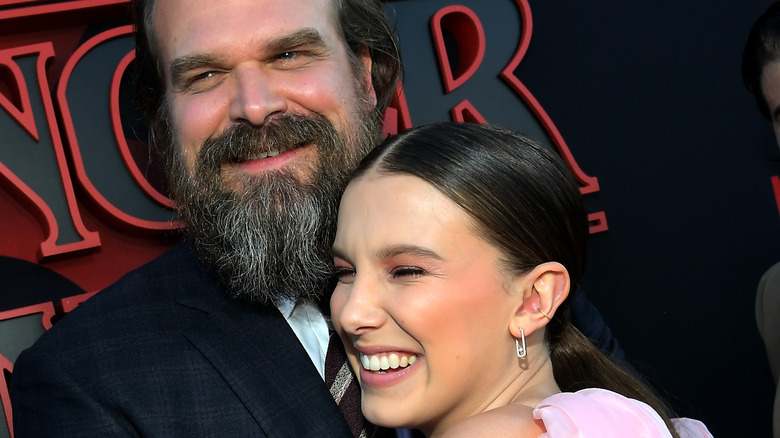 Charley Gallay/Getty Images
David Harbour plays Millie Bobby Brown's protective adopted father on the hit Netflix show "Stranger Things," but it's not just on-screen that Harbour shows care and concern for Brown. The star's portrayal of Eleven on the show skyrocketed her to international fame when she was a young teen (via Elle). It's that growing up in the spotlight that worries Harbour.
On the podcast "That Scene With Dan Patrick," Harbour talked about his relationship with Brown and how he feels about her, saying, "I knew her before any of this big fame hit ... I have a real, like, worry. I worry about her and the fame and all that she has to struggle with. And I've just always felt this kind of deep fatherly affection for her" (via EW).
While Brown doesn't have to face off against supernatural creatures like her character Eleven in "Stranger Things," she has had to face scrutiny from the world and media. On Brown's 16th birthday in February 2020, she posted on Instagram about some of the challenges she has, unfortunately, had to face, writing in part, "The last few years haven't been easy, I'll admit that. there are moments i get frustrated from the inaccuracy, inappropriate comments, sexualization, and unnecessary insults that ultimately have resulted in pain and insecurity for me. but not ever will i be defeated."
Millie acknowledges that fame impacts her mental health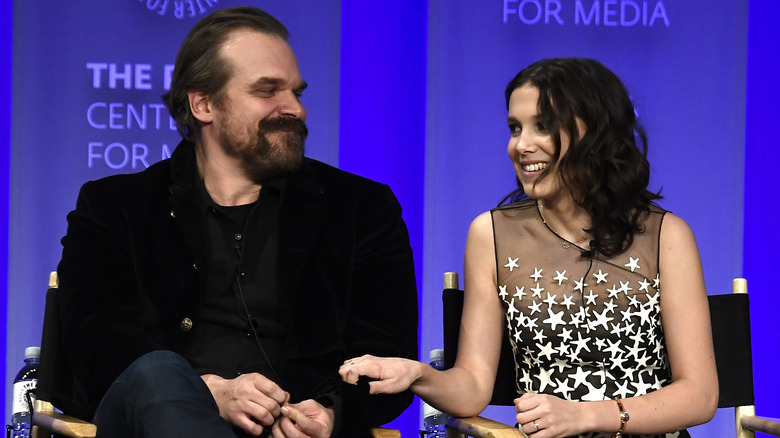 Frazer Harrison/Getty Images
Millie Bobby Brown did acknowledge to Vogue that she understands the attention that she gets. "Like, I have chosen to act and I know what comes with acting is fame and photographers and paparazzi and interviews all the time," she stated, but that doesn't mean it doesn't take a toll. 
Brown has also been candid about how fame has impacted her mental health, explaining, "When I'm having a bad day or I'm feeling very anxious, some things like when people say, 'Oh, you looked bad at this award show because you looked like this or you looked like that,' make me a little bit more anxious," (from Glamour).
Her appearance has been fodder for many as the actress has been accused of dressing too old for her age (from Teen Vogue). She isn't, however, still a child star, and Brown revealed how it feels to know that some fans still see her as a kid. "I'm learning to be a young woman," she admitted (via Elle), "being a young girl, people watch you grow up, right? And they've almost become invested in your growth and your journey. But they aren't ready to accept the fact that you're growing up."