Why Amber From Love In Paradise Wanted To Share Her Story - Exclusive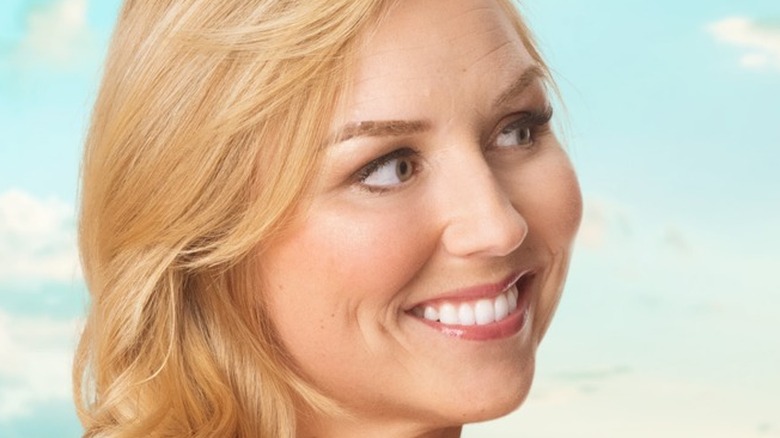 discovery+
Amber met her boyfriend, Daniel, when she was vacationing in Costa Rica. The pair only spent three days together before Amber had to leave, but it was enough for them to fall madly in love. Amber spent all her extra time and money to go back down to Costa Rica for visits, and Daniel began learning English so they could communicate better. They worked hard for their love and their relationship. Now, three years later, Amber and Daniel are applying for a K-1 Visa so they can realize their dream of having a happily-ever-after together in the United States.
Oh, and they're also starring in a new discovery+ reality show called "Love in Paradise: The Caribbean, a 90 Day Story." The series follows Amber and Daniel, as well as three other international couples, as they navigate the ups and downs of falling in love on a tropical island and trying to maintain that romance long distance. But how did Amber and Daniel go from a hard-working couple to reality stars? Amber sat down for an exclusive interview with The List, wherein she revealed why she wanted to share her story.
Amber wants to share a message of hard work and of love
Agreeing to appear on a reality show is a big decision. It comes with lots of opportunity, but also lots of risk. But for Amber, the choice was easy. She wanted to share her story so the world could see how hard it is for international couples, but also how rewarding. "I just want to show it isn't easy and it takes a lot of work on both sides," she told The List. "... Sometimes I don't appreciate how hard it's all been for us. It's a beautiful love, and if you can have somebody that lights that fire that you felt like you'd never deserved or didn't think you could get, I'm really lucky in that manner."
She also wanted to make sure viewers believed that "love conquers all," even though she's still waiting for her and Daniel's troubles to be conquered. "I think with COVID and everything, we forgot how there's a lot of beautiful things in this world — love being one of them, selflessness being another," Amber said. "I'm ambitious about this love. I'm here to do the work for this love, and I'm really lucky."
Love in Paradise's Amber isn't nervous about sharing her story
While many reality TV stars might be concerned about negative attention, Amber isn't worried. In fact, she's not nervous at all about sharing her story on "Love in Paradise." As Amber told us, "I don't really care what anyone's got to say. It's my life. Nobody knows the struggles. Nobody knows the hardship ... They've never walked in my shoes."
And that is another reason why Amber wanted to share her story with the world. She wants people to see a real love story, complete with ups, downs, challenges, and triumphs. "It ain't a beautiful love story, but it's a love story, and it looks like it could be a train wreck and it can be a fairy tale, at the same time," she said. "I think just reminding people through everything, through COVID, that love is work. It doesn't matter if they're in the same country, next door, across the sea, love takes work and it's easy to call it quits and to give up."
New episodes of "Love in Paradise: The Caribbean, a 90 Day Story" drop weekly only on discovery+