What We Know About Tiffany Haddish And Common's Relationship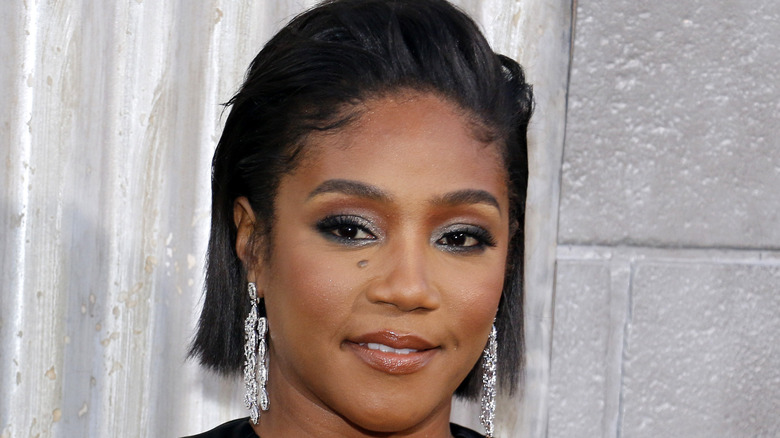 Shutterstock
The COVID-19 pandemic has led to several weird couplings, but comedian Tiffany Haddish hooking up with rapper-turned-actor Common made total sense. As Billboard notes, the two originally crossed paths on the set of the 2019 crime thriller "The Kitchen," in which Common played Haddish's love interest. During a subsequent appearance on Steve-O's "Wild Ride" podcast, the actress casually mentioned she and Common were hanging out, shrugging, "He comes to play spades with me and my friends and stuff."
Haddish then later recruited her former co-star to assist with a charitable initiative to help frontline workers and children, funnily enough through the dating app Bumble. "At this point our friendship was getting a little more than friendship but not quite 'cause COVID happened and we're like quarantined," she said. They went on their first official (virtual) Bumble date the following April, with the duo even managing to share a romantic dance and some food. Clearly, sparks were instantly flying between Tiffany Haddish and Common. So where does their relationship stand today?
Quarantine brought Tiffany Haddish and Common closer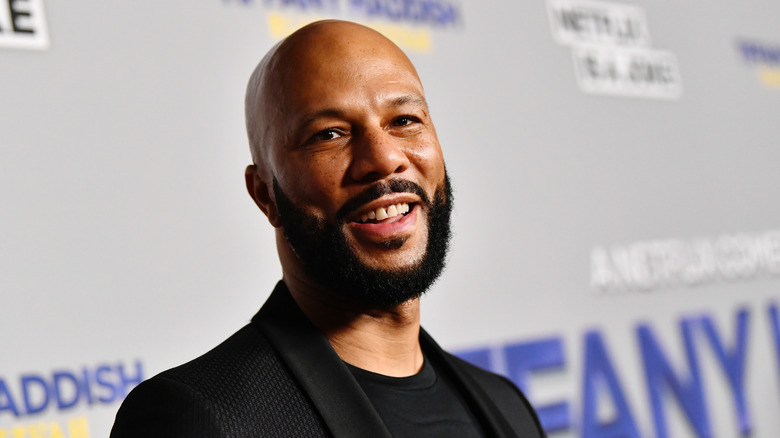 Emma Mcintyre/Getty Images
According to Billboard, by April 2020, fledgling couple Tiffany Haddish and Common were already quarantining together, as the "Girls Trip" breakout star revealed during an Instagram Live session. It would be another few months before they made the relationship official, however, with Haddish quipping to Steve-O during an appearance on his podcast that the two matched each other nicely thanks to their freshly shaven heads. She also revealed: "He got tested for everything, I got tested for everything, and yeah, we've been f*****g."
Haddish even described Common as both her first celebrity boyfriend and best partner overall. The rapper and "John Wick" star echoed her comments during an appearance on "Live with Kelly and Ryan." "She's a wonderful woman, a queen, and just a beautiful person, man." Common also confirmed he was simply happy the two had found each other during such a strange time. 
Their friends totally love the couple together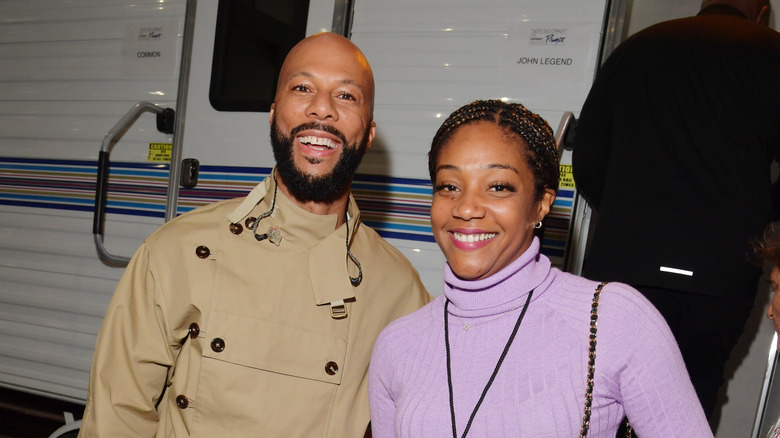 Lester Cohen/Getty Images
Rumors of a split surfaced in late 2020, but Common emphatically shot them down during an interview on "The Late Show with Stephen Colbert," enthusing that things were still great between him and Tiffany Haddish. "I'm opening up and receiving and trying to give as much love as I have in my heart," he said. "So the love thing, I wanna live in that. I like being a part of love and expressing that." Tiffany Haddish joined Colbert a couple months later and clarified that Common is not her boyfriend. "He is my man," she said (via YouTube). "I don't date boys no more."
The two love gushing about each other, and their friends are just as enthusiastic, with an insider telling Us Weekly they're "such a great couple," everybody loves them together, and their nearest and dearest even think this might be it for them. Haddish and Common reportedly bring out the best in each other, too, something she told People and which he later reiterated in his own interview — proving their friends' point emphatically.