The Truth About Aaron Taylor-Johnson's Friendship With Christopher Mintz-Plasse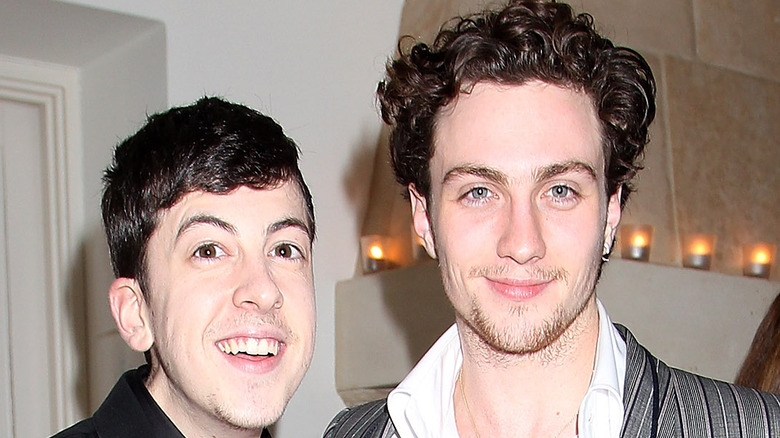 Chris Jackson/Getty Images
Subversive superhero movie "Kick-Ass," based on the comic book of the same name and released in 2010 (per IMDb), is a cult favorite. The cast boasted Nicolas Cage himself, alongside Evan Peters and a teeny Chloë Grace Moretz in her first major onscreen role. The lead was played by Aaron Taylor-Johnson, a British actor who broke out in beloved teen rom-com "Angus, Thongs and Perfect Snogging" before courting controversy by marrying "Fifty Shades of Grey" director Sam Taylor-Johnson. 
Meanwhile, the supporting role of supervillain-in-training Chris was portrayed by McLovin himself, Christopher Mintz-Plasse, who was fresh off of his breakout role in "Superbad" and had a handful of other roles to his name. "Kick-Ass" represented a major moment in both actors' careers, and, indeed, they went on to appear in the sequel, "Kick-Ass 2," together, too. Although their comic book characters were frequently at odds in the movies, in reality, Aaron Taylor-Johnson and Christopher Mintz-Plasse are the best of friends.  
Aaron Taylor-Johnson and Christopher Mintz-Plasse had to dig deep to play enemies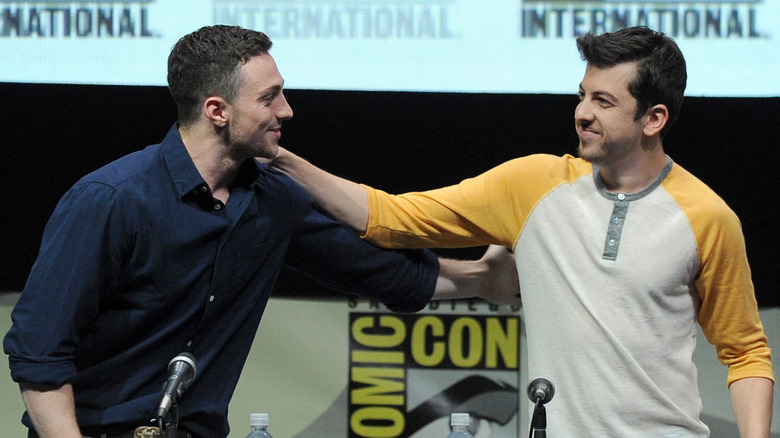 Kevin Winter/Getty Images
Although Aaron Taylor-Johnson and Christopher Mintz-Plasse played sworn enemies, particularly in the superhero sequel "Kick-Ass 2," they were super close offscreen. Taylor-Johnson naturally played the titular superhero once again while his buddy portrayed a character whose supervillain moniker is strictly NSFW (via IMDb). According to USA Today, during a promotional appearance for the film at San Diego Comic-Con, the two openly squabbled like brothers, from comparing strange marks on their arms — allegedly caused by enthusiastic fans looking to get closer to the two actors — to arguing about whom a glass of ice brought over by a publicist was actually meant for. 
Taylor-Johnson and Mintz-Plasse were pretty inseparable on set, too. Den of Geek confirmed the two were "clearly close friends in real life" during a joint interview with them. The actors consistently ribbed each other for looking young despite having a full beard (Mintz-Plasse) and even allegedly bringing their colorful costumes from home (Mintz-Plasse again). "He brought it with him! This is his," Taylor-Johnson quipped. To which his co-star deadpanned in response: "This is my mom's." 
They might be at odds onscreen, but there's nothing but love between these two off of it.