How To Pull Off The Tricky Trend Of Wearing Socks With Heels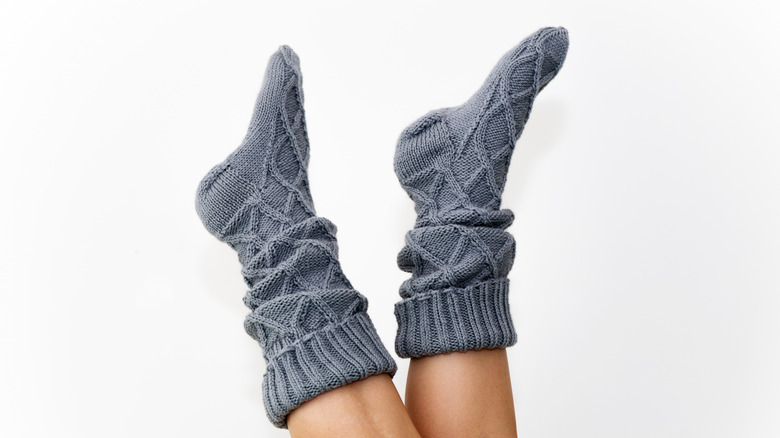 Shutterstock
When we see celebrities rocking chic and stylish trends, we always jump and immediately buy things to recreate the moment. While big name celebrities and influencers can pull off unique and stylish looks, sometimes us everyday people feel a bit awkward trying to pull it off, too. If we're not walking the runway or being snapped by paparazzi, it seems a bit silly for us to rock those high end fashion trends in our everyday lives. 
But, if you're looking to try out those chic trends for yourself, there are tons of ways to make them your own — and make them work. One of the latest trends sweeping the celebrity world is pairing socks with heels and sandals (via Harpers Bazaar). While it seems like something your grandfather would do, it actually turns out to be a really hip and fashion-forward trend that big names in the industry are rocking. 
If you want to try this trend out for yourself, there are a few ways to incorporate them in several different types of outfits for different days and events. 
How to rock socks with heels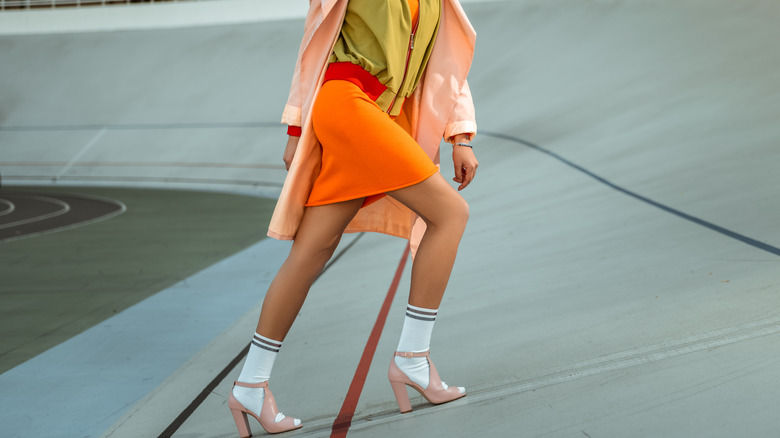 Shutterstock
One way to rock socks with heels is by buying yourself socks that are more sheer. Wearing a pair of sheer socks with heels can give any outfit a more elegant and classic kind of look. For date night or nights out, wearing sheet, black socks can class up a simple dress or even a skit and shirt combo. Another way to try the socks and heels look is by trying out knee high socks with heels and booties, per Harper's Bazaar. Knee high socks are perfect for fall and winter seasons, especially with a dress or skirt. It's the perfect look that can be versatile for both work and play. Plus, they keep those legs warm in those colder months! 
For those more casual days, grabbing some bold and even name-brand socks can make your outfit pop and give it a bit of flavor, per More. When you're running out for coffee with friends or even grabbing lunch with your coworkers, pairing a bold color sock with a nude heel or sandal can give your outfit some extra spice. The opposite works as well: rocking a classic color sock (black, white) with a boldly-patterned bootie or heel is the perfect fashion statement!
When all else fails, you can also consult Pinterest for some inspo pictures and iconic looks for this socks and heels trend. Who doesn't love a fashion moment?!?