How To Replicate Awkwafina's Makeup Routine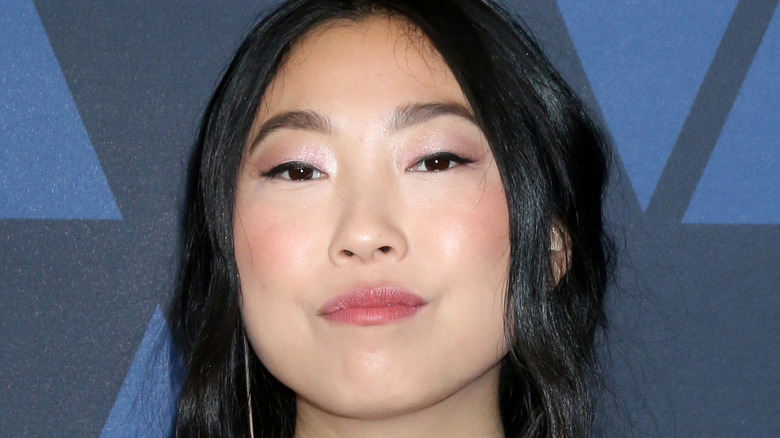 Shutterstock
While rapper and actress Awkwafina has never taken herself (or her makeup routine) too seriously, her flawless makeup and skin are fairly difficult to ignore during her pivotal roles in "Crazy Rich Asians" and "Ocean's 8." During an interview with Into the Gloss, Awkwafina (whose real name is Nora Lum) admitted that she had a fairly simple makeup routine. According to Awkwafina, she suffers from dry skin, so prior to applying any makeup, she ensures that her skin is ready to face the day. Awkwafina begins her skincare routine by applying Clarins Multi-Active Day Cream and Sisley Black Rose Precious Face Oil in order to infuse a bit of hydration into her face, per Into the Gloss.
At the end of a long day, Awkwafina prepares her skin for sleep by removing her makeup, applying a serum when her face is still slightly damp, and then applying a moisturizer to finish off her nighttime routine, according to Allure. Come the next morning, the actress once again preps her skin. After ensuring that her skin is ready to face the day, Awkwafina moves to her makeup routine. Thankfully, Awkwafina's flawless makeup routine is easy to replicate.
Awkwafina's most famous look can be easily replicated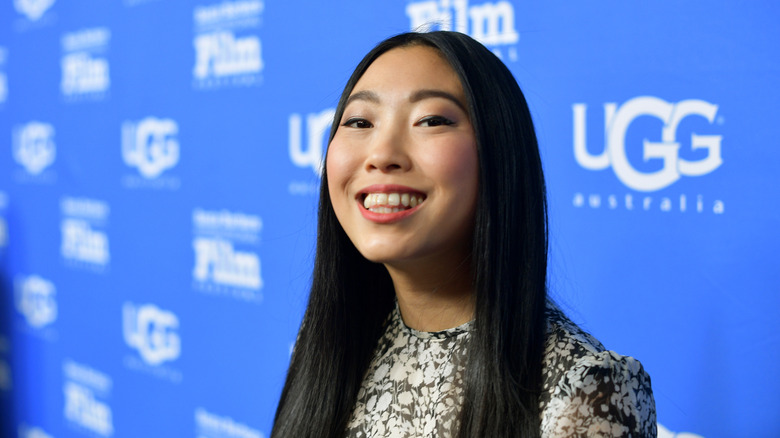 Matt Winkelmeyer/Getty Images
Despite the fact that her makeup always appears to be flawless, multi-talented Awkwafina is completely at a loss when it comes to drawing on her eyebrows. "How do people freehand-draw an eyebrow on their face?" Awkwafina said during an interview with Allure in 2019. "Not only one, but two eyebrows? There's no stencil; there's no reference; our faces aren't lined. I don't understand it. The night I played my first big show, [my DJ and my hype man] did my makeup."
One of Awkwafina's most beloved looks was the nearly luminescent makeup she donned during her Golden Globe Awards appearance earlier in 2021. Her makeup look included glowy skin, colorful smoky eyes, and subtly glossy lips crafted by makeup artist Kirin Bhatty. As Bhatty told Byrdie, she used rosy and green-tinted concealer, along with a light, water-based concealer, to spot-correct and supply just a bit of light coverage. She then sculpted Awkwafina's cheekbones using bronzing cream and a combination of three blush colors that simultaneously supplied a pop of color and shimmer.
After applying a combination of cream, pink, and golden grey eyeshadow colors to Awkwafina's eyes, Bhatty told Byrdie that she used a liquid liner to provide a "hint of a flick" to the corners of the rapper's eyes. A generous application of volumizing mascara then followed the eyeliner. Awkwafina's makeup look ended with a subtly glossy lip created through a combination of Chanel Rouge Allure Ink and Chanel Rouge Allure Laque. And there you have it!